The first UK TV advert for VIP e-cigarettes will be broadcast tonight on ITV - almost 50 years since cigarette advertising was banned on British television.
E-cigarette adverts have been on television for some time, but showing the actual device itself was banned until a change in advertising rules, which came into force overnight.
The advert, featuring a woman exhaling vapour from an e-cigarette, will be aired thanks to the Advertising Standards Authority rule change.
There will be 10-second and 20-second cut versions of the commercial, which will run at various post-watershed times over five weeks.
Critics warned that promoting e-cigarette use could normalise the imagery of smoking.
The British government banned cigarette advertising on television in 1965 and tobacco advertising was banned in 2002.
Dave Levin of VIP, the company behind the advert, said: "This advert will mark the first time in almost 50 years that TV audiences see someone exhale what appears to be cigarette smoke on an advert. However, it is actually vapour from an e-cigarette that they will see.
"E-cigarettes have attracted a lot of controversy recently, which has largely been due to concerns over safety, so it will be interesting to see how people respond to our advert's debut."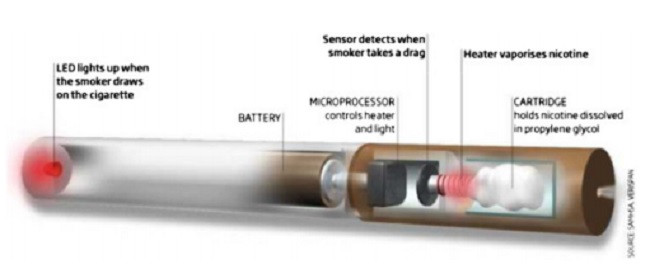 Prof Martin McKee, of the London School of Hygiene and Tropical Medicine, opposed the change to advertising rules, which include not appealing to people under 18 or claiming e-cigarettes are "safer" than tobacco.
McKee told the BBC: "This is a very daft idea, as many of us said during the consultation.
"A lot of questions need to be answered about e-cigarettes before adverts are even considered.
"First we need to get an agreement on whether they aid people to quit smoking or whether they become a lifestyle choice that people are going to use for 40 years - this hasn't been resolved yet.
He added: "And there are still huge questions about their safety."
What is an E-Cigarette?

Electronic cigarettes (also known as e-cigarettes or electronic nicotine delivery systems)
were invented in China in 2003 and designed to provide inhaled doses of vaporised nicotine.
Electronic cigarettes were first introduced to Europe in 2005 and have become increasingly popular since

Electronic cigarettes are composed of a re-chargeable lithium ion battery, and a battery powered atomiser which produces vapour by heating a solution of nicotine, usually in propylene glycol or glycerine, held in a (often refillable) cartridge in the device

Drawing air through the e-cigarette triggers the heater to create vapour which
contains nicotine and is inhaled by a smoker the same way as smoke from
conventional cigarettes.

Producing nicotine vapour from a solution rather than by burning tobacco means that electronic cigarette vapour is free from almost all of the many toxic chemicals that accompany nicotine in cigarette smoke.

Not all electronic cigarettes include nicotine; some simply produce vapour for inhalation, but these are not popular among users.

Source: Public Health England