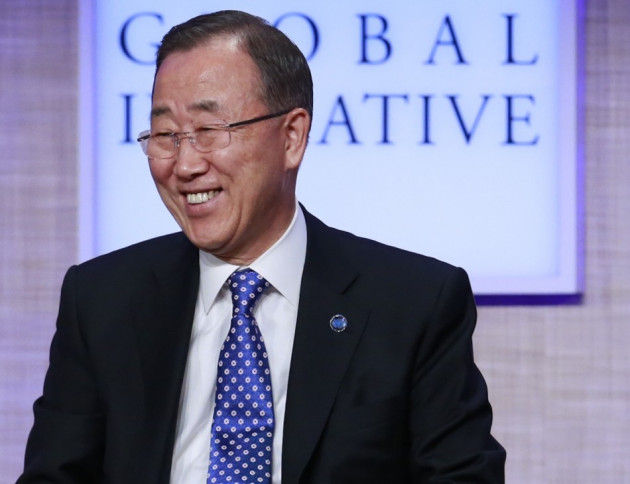 Two Canadian radio comedians who specialise in phone hoaxes have succeeded in calling UN Secretary-General Ban Ki-Moon while pretending to be Canadian Prime Minister Stephen Harper.
The comedy pair, known as "the masked avengers" called Ban and spoke to him for nearly five minutes.
In a dig at Harper's hairstyle, one of the comedians apologised to the UN chief for not being able to attend the ongoing UN assembly as he was busy combing his hair with superglue.
Sebastien Trudel and Marc-Antoine continued, asking Ban to speak to the National Hockey League Commissioner in a bid to return Quebec City's hockey team to Colorado.
An irritated Ban reportedly replied: "Excuse me, am I speaking with prime minister right now?"
The comedians said it took them only an hour and a dozen phone calls to reach the UN Secretary-General, against their initial belief that it would take days.
Quebec City radio station has already aired part of the conversation.
Ban found time to laugh off the prank, despite a busy schedule that includes nearly 120 meetings with world leaders.
Eri Kaneko, a spokesperson for Ban's office, said: "The Secretary-General quickly understood that it was a prank, and he took it in the way that it was intended, as a joke. It's a busy time of year, and the secretary-general has a considerable amount to do, so it wasn't the best use of his time, but these things happen."
Kaneko added: "In the future, we will be listening extra hard for poor French accents for any calls coming from Canada," as the pranksters started off the conversation in French.
The comedians' earlier victims include Bill Gates, Mick Jagger, Britney Spears and Sarah Palin.
Rounding off their jokes for the day, the duo even called Harper, pretending to be another senior Canadian politician.