The UN's World Food Programme (WFP) is cutting the size of its projects in a number of countries as it battles a $1bn (£609m, €741m) shortfall in funding and rising costs for several missions, its director said on 3 February.
WFP executive director Ertharin Cousin is in Australia as part of a tour to garner support for the WFP among donor nations and the private sector, to help feed the world's hungry.
Cousin hopes to convince more individual and private-sector donors, a strategy successfully adopted by another UN agency, the United Nations Children's Fund. UNICEF receives more than 60% of its funds through such channels as against five percent for the WFP.
Cousin also aims to broaden the agency's funding base beyond traditional donors such as the UK or the US. She is trying to get emerging market economies such as China and Saudi Arabia to contribute on a regular basis.
Costs are rising for potentially unsafe operations in Syria, where the WFP wants to feed 4.25 million hungry people at a cost of $40m a week.
She said there were "hundreds of thousands of people (in Syria) that we can't reach on an ongoing basis" but emphasised that where aid was getting through, "it means that we're making a difference".
Expensive aerial operations are being debated for the war-torn Central African Republic, where Cousin said more than 50 food trucks were held up at the border awaiting armed escort while about 800,000 internally displaced people needed food.
The WFP chief also said rations were being cut across programmes in nations such as Haiti, Niger, Mali and Kenya, where refugees in the sprawling Dadaab camp suffered a 10% cut in January, after a similar cut in December 2013, "because we lack enough money to feed everybody a full meal".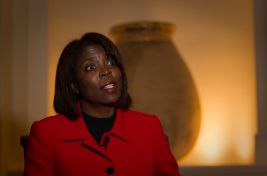 "We have about $1bn more in identified need in 2014 than we have projected revenues," the executive director told AFP.
"Donors target their funds and when donors target their funds it means that (to fund) Syria, those same donors --- it's the same pie, so they cut their funds in other places," she said.
"We are planning to fly food next week from Cameroon into Bangui City," she said.
"Again it will cost us more and we will have fewer people that we can serve, but if we don't start next week we won't have enough food left to feed people inside Central African Republic anymore."
An aerial mission in December 2013 involving 12 flights from Iraq to Qamishli in the troubled Al-Hasakah region of Syria, cut off from roads for a year, cost $800,000 and fed only 6,000 people, Cousin added.