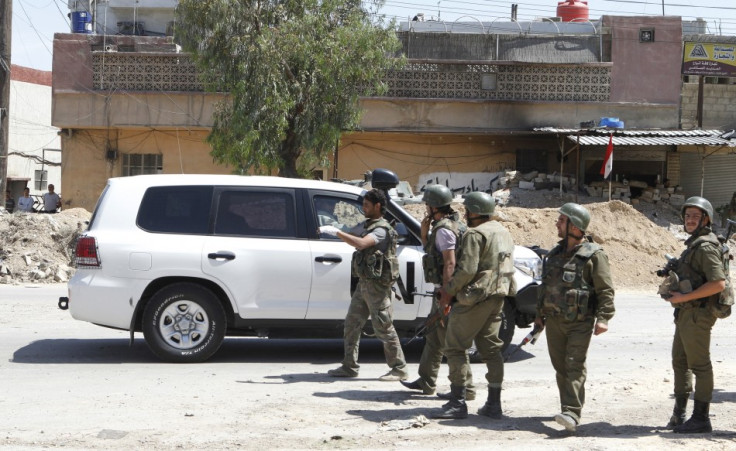 United Nations monitors in Syria said they will renew attempts to access the site of the latest massacre in the village of al-Kubeir.
The Al-Kubeir massacre in the central province of Hama provoked yet another wave of international condemnations with UN Secretary-General Ban-Ki Moon declaring the Assad regime has "lost its fundamental humanity" and legitimacy.
Almost 100 civilians died in the attacks including dozens of women and children.
Syrian activists and survivors of the massacre blamed the killings on Syrian troops and pro-Assad militiamen known as the Shabiha,
Syrian rights group such as the Britain-based Observatory for Human Rights (SOHR) and the Syrian Network for Human Rights (SNHR) have called on UN monitors currently in Syria to visit promptly visit the site.
The monitors were however prevented from accessing the small farming village on 7 June.
Talking to the UN General Assembly on June 7, Ban-Ki Moon revealed they had been shot at by small arms as they were trying to pass army checkpoints.
Earlier on the head of the monitoring team Gen Robert Mood said some UN patrols had been stopped by Syrian troops and prevented from reaching Al-Kubeir.
Moon also told reporters the UN team had been stopped by residents who warned them against reprisals from the regime's troops.
The Syrian government issued a statement on state TV denying troops had blocked access to al-Kubeir.
Assad's government also denied responsibility for the massacre instead reiterating claims terrorists backed by foreign powers were responsible for the bloodshed in a bid to destabilise the country.
Meanwhile violence continued in al-Kubeir. SNHR said at least 11 people were killed by the security forces including a mother and her four children who were arrested.
Their dead bodies were later returned to the village. More violence was reported in Latakia with eight dead, Damascus and its suburbs with 11 fatalities and in Homs where the regime's forces were accused of continued shelling.
Despite international outrage, diplomatic efforts are still set to focus on the six-point peace plan drawn up by UN-Arab League joint envoy Kofi Annan.
While admitting his plan was not being implemented, Annan called for continued support and was backed by Ban Ki Moon and Arab league Chief Nabil Elaraby.
All three officials insisted on the need to find a political solution to the conflict ruling out the use of force or military intervention.
Next steps might include a new UN resolution with more sanctions against the Assad regime, but will have to convince China and Russia who have until now resisted such a move.