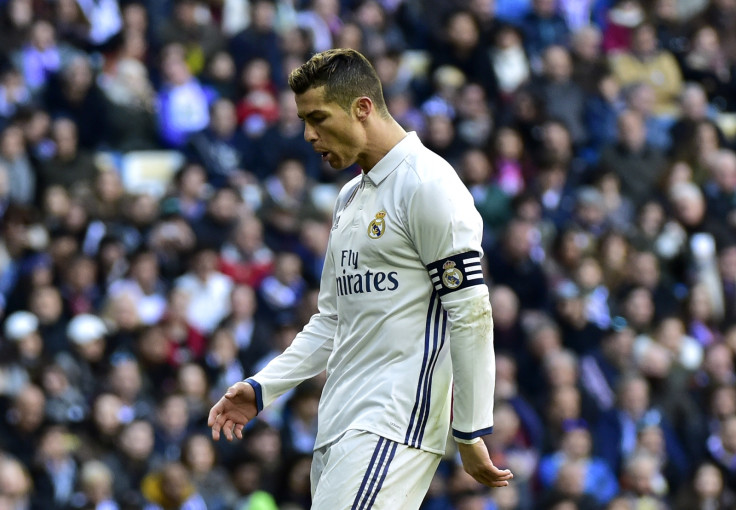 Real Madrid boss Zinedine Zidane has suggested he is ready to risk Cristiano Ronaldo in the second leg of the Copa del Rey quarter-finals at Celta Vigo despite the Ballon D'or suffered a knock during the weekend victory over Malaga.
Ronaldo set alarms bells ringing at the Santiago Bernabeu on Monday after missing the workout as Los Blancos started the preparations for the decider trip to Vigo. However, the Portugal international was back in training on Tuesday morning and Zidane has suggested he will play him at Celta as Real Madrid need a victory to qualify for the semi-finals of the competition – having suffered a surprising 2-1 defeat in the reverse fixture at the Santiago Bernabeu last week.
"If he's fit, he'll play," Zidane said in the press conference ahead of the trip to Vigo. "It was a knock and something bothered him, but he's okay. We're only thinking about tomorrow's game".
The former Manchester United forward has been under some scrutiny in recent games after having experienced a dip in form since the start of the year. Some Real Madrid fans even voiced their frustration with the Ballon D'or winner during the 2-1 victory over Malaga after he enjoyed another game to forget.
But Zidane has urged Real Madrid travelling fans to support Ronaldo and the rest of his teammates in Los Blancos attempts to overcome the Copa del Rey tie.
"We work and we want to get the most for ourselves and for the fans who come to help us. I don't know if [the jeers] are fair or not but it has always been that way and will continue to be. In this stadium everyone has been whistled at and that will not change. All I'm saying is that we need our fans. That's clear," the Real Madrid boss said.
Ronaldo has thus been included in a 19-man travelling squad seriously hit by the injuries of all Luka Modric, Marcelo, Dani Carvajal, James Rodriguez, Pepe and Gareth Bale. Raphael Varane has also been left out of the squad although Zidane did not specify reasons why. This way, Zidane has been forced to promote two players from the second team in his son Enzo and right-back Achraf Hakimi to complete the list.
One way or another the France boss has said that the injury situation won't be an excuse if Los Blancos fail to reach the Copa del Rey semi-finals as he believes the rest of the players available have what it takes to overcome the tie.
"We've had a lot of injuries lately, but I am responsible for all that. Everyone here is doing their best to get the best out of the players. I would like to have everyone available obviously, but we can't do anything about it. During the season it's normal for players to pick up injuries. Physically we're in good shape and we will continue working this way," Zidane said. "When there are injuries you worry as you do when you lose a game, but I'm not worried. We'll all continue to do the same thing and the atmosphere in the changing room is good. We know we have a very nice game to play and it will be difficult. We're really looking forward to it".
"We like these kinds of matches and from time to time we like to have the opportunity to come back. We're going to give everything and we'll not throw it away at all. It is another competition. We'll not change anything due the injuries. Others will play and they'll try to do well. I am sure they'll do well. We have to score and play our game. We'll see how we manage the game".