Ed Miliband should not pose with The Sun again because he will insult the people of Liverpool, according to the leader of trade union Unite.
Len McCluskey, general secretary of the Labour Party-affiliated union, expressed his disappointment that Miliband posed with a copy of the red-top newspaper after the publication came under attack for its coverage of the Hillsborough disaster.
"I only hope that Ed Miliband and his advisors remember that this is a Labour city and does not insult the people again by promoting that disgusting Murdoch rag, The Sun," McCluskey told delegates at Unite's policy conference in Liverpool.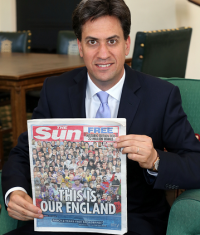 McCluskey also called on his union, which has more than 1.4 million members, to "get the Tories out" of government at the 2015 General Election.
The Rupert Murdoch owned title splashed with a story entitled "The Truth" four days after Liverpool FC fans were injured and killed at the Hillsborough Stadium in Sheffield in 1989.
The story made false allegations about fans' behaviour and The Sun has since apologised for the article, stating that it was "profoundly sorry for the false reports".
The editor of the tabloid at the time, Kelvin MacKenzie, also issued an apology in 2012.
"I published in good faith and I am sorry that it was so wrong," MacKenzie said.
But the paper remains unpopular in the Merseyside area and Miliband was criticised for posing with a free edition of The Sun in support of the England football team ahead of the 2014 World Cup.
Miliband apologised for "any offence caused" after he posed with the paper and said he "understood the anger" felt on Merseyside about the issue.
A Sun spokesman said: "The Sun wants to thank Miliband for having his picture taken and cheering on England to #DoUsProud in Brazil.
"The free edition of The Sun is an unashamedly positive celebration of Englishness, and it should come as no surprise that politicians on all sides are happy to get behind our uplifting message."