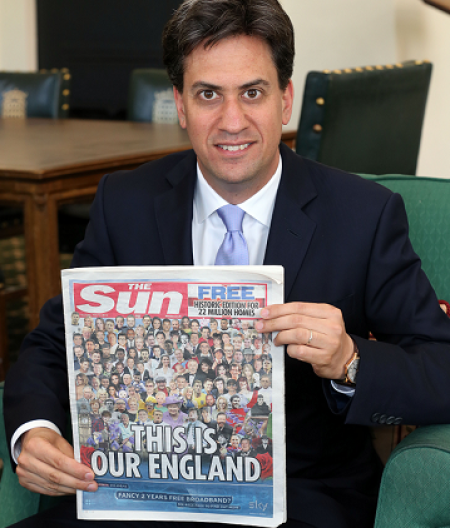 Ed Miliband has been forced to apologise after agreeing to be photographed endorsing The Sun newspaper.
The Labour leader was photographed posing with the special free World Cup edition of the paper which was sent out to 22 million homes across the UK.
The photograph caused outrage in Liverpool, which has imposed a boycott on the paper ever since its controversial 'The Truth' coverage of the 1989 Hillsborough disaster at which 96 people died. Postal workers across Merseyside even refused to deliver the paper to homes in protest.
Miliband was condemned for the photograph by the city's mayor Joe Anderson as well as members of his own party.
The Labour party defended the pose, saying Miliband was merely showing support for England during the World Cup.
In a strongly worded blog post, Andersen said: "Like everybody in this city I am really hurt and offended by Ed Miliband's support for The S*n 'newspaper' [his censorship] today.
"Such clear support for that publication at any time would be wrong but at such a sensitive time is deeply shocking.
"My city was offended and insulted by the lies and smears peddled by The S*n and their hindrance to our fight for justice is something that will never be forgotten.
"For the leader of the Labour Party to make such an offensive gesture insults not only me but every person in the city.
"This is just another example of how out of touch the politicians in their ivory towers are from the lives of ordinary people.
"It begs the question -- were the comments he made after the Hillsborough panel report sincere or just sound bites?"
A number of Labour MPs and councillors, including MP for Liverpool Steve Rotheram, also criticised Miliband for the photo. Liverpool councillor Peter Mitchell believes Miliband should stand down from his role as labour leader because of the "appalling" endorsement.
According to reports, Miliband chose to pose with the paper which has a readership of seven million as part of an attempt to win its endorsement before next year's general election. Some have pointed out this stance goes against Miliband's previous claims that Rupert Murdoch's News Corp empire should be "dismantled".
Following the controversy, a spokesman for the Labour leader said: "Ed Miliband was promoting England's bid to win the World Cup and is proud to do so.
"But he understands the anger that is felt towards the Sun over Hillsborough by many people in Merseyside and he is sorry to those who feel offended."
A spokesperson for The Sun added: "The Sun wants to thank Ed Miliband for having his picture taken and cheering on England to #DoUsProud in Brazil.
"The free edition of the Sun is an unashamedly positive celebration of Englishness, and it should come as no surprise that politicians on all sides are happy to get behind our uplifting message."