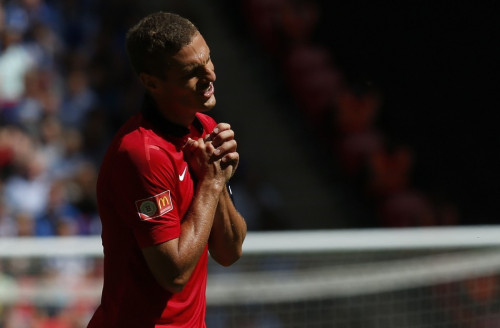 Manchester United captain Nemanja Vidic has been shocked by the performances of Arsenal and Liverpool this season with both sides vying for the Premier League title.
Last season the Gunners only finished in the top four, where a final day win at Newcastle United sealed Champions League qualification by a single point over Tottenham hotspur.
Meanwhile, Brendan Rodgers' side were never a serious threat to the top four last term and failed to qualify for Europe, however this season Liverpool have benefitted from the lack of distractions by staging an unlikely bid for the title.
And Vidic has admitted his disbelief at the state of the table with Arsenal setting and pace and Liverpool only just cut adrift, while United are struggle to break into the top four.
"I didn't expect it to be this crazy!" he told the Mirror. "I expected teams to drop points and I expected a few teams to get better. I thought Liverpool would improve, but I didn't see them being where they are - Arsenal, maybe as well.
"I thought City and Chelsea would be up there and I thought we would be in a better position that where we are now."
Much pressure has been placed on David Moyes in his first season at United and his the side sit seventh in the table with under four months of the season to play.
But Vidic insists it comes down to the players, not the manager, to perform at their best in every game with this very squad having run away with the title last season.
"In the Premier League, we had a tough start and that didn't help us get our rhythm at the start of the season," he explained.
"We had changed our manager, there was a lot of focus in the media on how we would do, and we had a few big derby games to play against Liverpool and Manchester City. We also played Chelsea very early on too.
"Our results during that tough start didn't give us the confidence to get going."
Vidic continued: "The manager is a good character. He talks to people. But it's up to the players too. We are a group and it's the group's responsibility to deal with situations.
"My expectations were the same. They are the same every year at Manchester United, not just because we had a new manager.
"Those expectations come from the players, the club, the fans as well as the manager. At United there is always a demand to win games and win trophies."