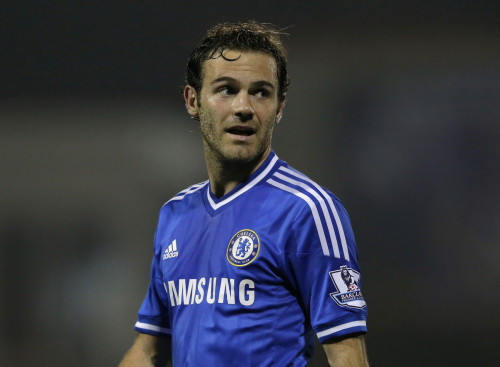 Former Manchester United defender Gary Neville has questioned the club's reported pursuit of Chelsea playmaker Juan Mata and identified seven new players for manager David Moyes to sign in the summer transfer window
United have been linked with making a £37m club record bid for Mata, who has made just 11 Premier League starts this season after falling out of favour with Jose Mourinho.
Mata claimed Chelsea's Player of the Year award in each of the past two seasons after successive European triumphs but has failed to impress Mourinho sufficiently to earn a regular starting place
The Spaniard has played just 52 minutes in 2014 and has been an unused substitute in the Blues' last three games, including the 3-1 win over United on Sunday.
After four defeats in their opening five matches of the year, Moyes is under pressure to delve into the transfer market to both reignite United's Champions League challenge and their hopes of contesting for the league title next season.
However, Neville doesn't believe Mata can fulfil that role in the United team though he does admit the signing would be a significant boost.
"That's a lot of money, 37 million quid, but they need a signing," Neville told Sky Sports. "Does he fit with what I would call the typical philosophy of Manchester United? I would say no.
"The first question, I think, is where are you going to play? Wayne Rooney and Robin van Persie are up top if they are fit so where are you going to play him? Are you going to play him off the left or off the right?
"We've seen Kagawa play off the left, we saw Kleberson play at times off the left, we've seen Veron at Manchester United move to the left because you can't play central midfield.
"Maybe they have to change the philosophy and maybe that's what David Moyes is thinking. Maybe he wants to play narrow wide players and maybe a three in midfield.
"They would have to change to accommodate Juan Mata in the way they normally play. They normally play with wide players. Sometimes they tuck in, but generally they have wide players and the thing for me is where is he going to play?
"He's obviously a fantastic football player, there's no doubt about that, but one thing it does do, I suppose, is that David Moyes, Manchester United and Ed Woodward need to sign a big player.
"They need to make a noise and if they get him in it will attract potentially other players - and they need three or four players.
"What it could be is the start of something to lead to other things, but typically I wouldn't say he fits."
Moyes has been linked with making a £200m spending spree to revitalise United's fortunes and Neville says additions of the likes of Marco Reus and Lucas Moura would spark the Scot's dynasty into life.
"If you took Paul Pogba, Marco Reus, Luke Shaw and Arturo Vidal - they would fit into Manchester United's philosophy," Neville added.
"Lucas Moura would and Ilkay Gundogan and Julian Draxler would. They are young players who have still not reached their full potential and have the potential to go on to be world-class players.
"They are good players at the moment and that fits the Manchester United mould of how they have historically signed, more often than not."