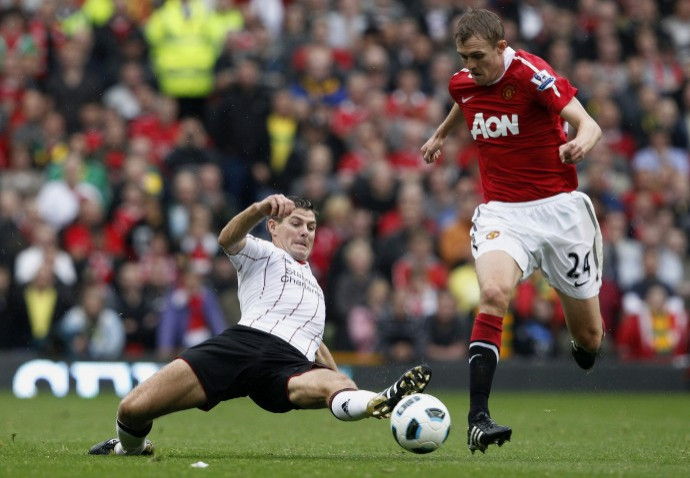 Former Scotland international Pat Nevin has backed Manchester United midfielder Darren Fletcher to make a full recovery from the illness that has forced the Old Trafford star to take an extended break from football.
The Manchester United midfielder is suffering from ulcerative colitis, a chronic inflammatory bowel condition and as a result the club confirmed the 27-year-old would be taking a complete break from football in order to return to full health.
The aforementioned BBC Football pundit believes Fletcher will be sorely missed by Manchester United and particularly Scotland. The honesty and integrity of Fletcher's performances for club and country are a testament to the midfielder's professionalism according to Nevin, citing Sir Alex Ferguson decision to pick the Scotland international in all United's biggest games.
"It is really bad news but the good thing for Darren is that Manchester United will ensure he gets the best possible treatment and his good health is paramount. He will have the finest professionals around him to help him recover." Pat Nevin told the BBC
"I watch him regularly for Scotland and they have not just built a team around him as a player, they have built it around his ethics and approach to the game. He will be hugely missed, although everyone will want him to take all the time he needs before coming back.
"He is honest and incredibly hard-working, so when you examine those qualities it is no surprise he has tried to play through his illness time and time again until he was no longer able to do so. This is why he is so highly rated by Manchester United boss Sir Alex Ferguson and Craig Levein.
"All we can hope now - and what both Manchester United and Scotland will be hoping - is that they can find a solution and treat his illness so can come back and start playing again.
Nevin suggests Fletcher's character is patently obvious whenever he plays for Manchester United and Scotland, intimating his insatiable industry and work ethic is an inspiration to any young footballer endeavouring to make a name for themselves.
"The type of personality he is can be seen in his game. He turns up for every Scotland game, whether it is friendly or competitive, and gives the same amount of effort every time." Nevin said of the Manchester United star.
"The other players will be able to see that if a Manchester United player turns up with that attitude then they should have it as well. He has never taken Scotland lightly - he mirrors how a footballer should feel about playing for his country and a club like Manchester United.
"There was a time at the start of his career when the Manchester United fans never took to him, which I could never get, but they appreciate him now and it was no coincidence that Sir Alex would trust him implicitly to perform in the big games for Manchester United.
"I also think Manchester United should be given credit for taking the step of making sure Darren puts his health before anything else."