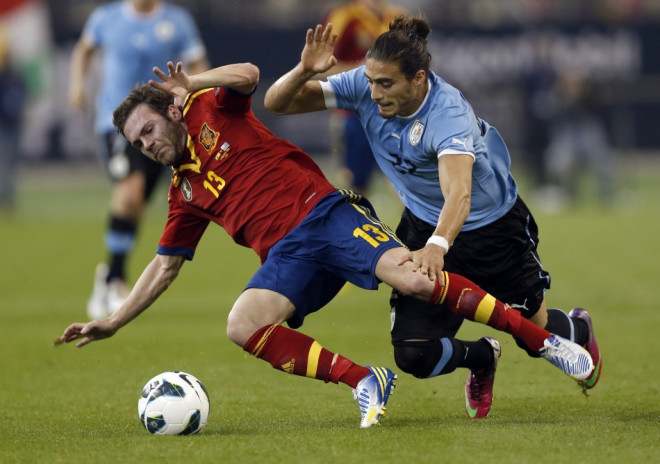 Juan Mata's recent performances may see the Manchester United star reclaim a spot in the Spanish squad for the World Cup – with his Arsenal compatriot Santi Cazorla giving way.
The former Chelsea playmaker was missing from the last Spanish squad for the friendly game against Italy, after struggling to secure a place in Jose Mourinho´s line up during the first part of the season.
And a month ago Mata was still not in Del Bosque´s thoughts at all, despite his move from Chelsea to United in mid-season.
His first month at Old Trafford was good, but still far from the form he showed during his two full seasons at Stamford Bridge, when he was named the fans' player of the year.
However, he has returned to his peak in United's recent games and some Spanish pundits suggest that he is forcing manager Vicente Del Bosque to rethink his plans.
Mata scored a goal against Aston Villa two weeks ago while last weekend he lead his side to a 4-0 victory against Newscastle, scoring a brace and providing Januzaj with a beautiful back-heeled assist for the fourth goal.
Meanwhile, his friend Cazorla is currently having a very different experience. Arsenal are struggling in the second part of the season and the man known as 'El Mago' has failed to take control of Arsene Wenger´s side in the absence of Mesut Ozil, Aaron Ramsey and Jack Wilshere.
Cazorla´s stats are also far from his best. He has scored just four goals and grabbed four assists in the Premier League while last season he registered three times those totals - notching 12 goals and the same number of assists.
Del Bosque is closely monitoring the situation of the Premier League pair, and some Spanish pundits have started to suggest that Mata is currently leading the race over his compatriot, even though Cazorla was in the last Spanish squad and the United star not.
The competence for the playmaker role in Spain is huge and it looks like there is just one place for either Mata or Cazorla as the rest of the squad is virtually sealed.
Pedro is one of Del Bosque's favourites and even though he is not playing at all at Barcelona his place in La Roja's squad is safe.
Koke, meanwhile, has guaranteed himself a World Cup with his form this season, as has the far more experienced David Silva, whose teammate Jesus Navas is a shoe-in as the only winger in the squad.
So that leaves Cazorla in a difficult situation. The Arsenal playmaker has won the 2008 and 2012 European Cup but he missed the 2010 World Cup won by Spain due to injuries.
Meanwhile, Mata admitted that his desire to make the trip to Brazil was one of his main reasons behind his decision to join Manchester United from Chelsea during the most recent transfer window and it looks like his efforts may be rewarded.