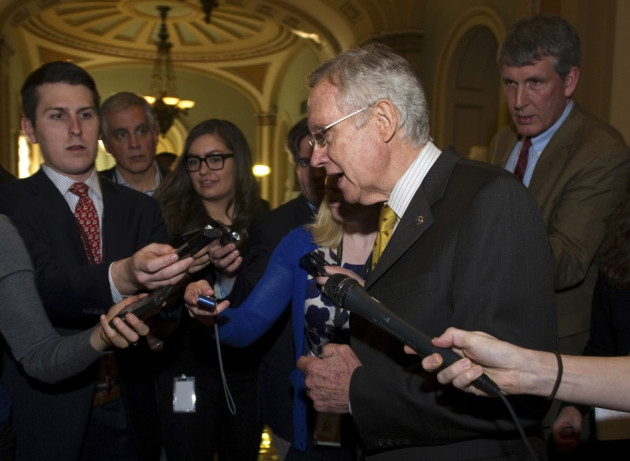 Senate leaders continued frantic budget discussions over the weekend with the deadline to avert the proposed tax hikes and spending cuts just hours away.
The initial optimism witnessed in the previous week seemed to wane among the lawmakers as talks head to the eleventh hour. Republican Senate Minority Leader Mitch McConnell said that the two parties remained at odds on more than one issue.
Democratic majority leader Harry Reid too said that there remained "significant differences between the two sides", but added that there was still time for the deadline to expire and that they intend to continue the discussions. Talks are set to resume later in the day.
Negotiations showed some progress earlier as the two parties got closer to an agreement on the threshold for the tax hikes on the wealthy as the tax-cuts passed during the time of former president George W Bush expire.
President Barack Obama had initially proposed tax hikes for those earning more than $250,000, but reports suggest that lawmakers are now discussing a threshold above $400,000 in a bid to reach an agreement.
However, even if the Senate is able to reach an agreement before time runs out, it will still have to be approved by the Republican-dominated House of Representatives, where the objection to raising taxes on the wealthy remains sharpest.
In an interview on NBC's Meet the Press, Obama accused the Republicans of protecting the incomes of the wealthy.
"[Republicans] say that their biggest priority is making sure that we deal with the deficit in a serious way, but the way they're behaving is that their only priority is making sure that tax breaks for the wealthiest Americans are protected," he said.
The president's comment did not go down well with the Republicans with House Speaker John Boehner saying that Obama has to lead, not blame others.
"The president's comments today are ironic, as a recurring theme of our negotiations was his unwillingness to agree to anything that would require him to stand up to his own party," Boehner said in a statement.
Failure to reach an agreement before the year-end will result in $600 bn worth spending cuts and tax increases coming into effect. Economists have warned that this could push the economy into recession.
According to the Financial Times, US agencies are already getting ready for mass lay-offs if the talks fall through. Defence Secretary Leon Panetta has reportedly told Republican Senator Lindsey Graham that the Pentagon is preparing 800,000 lay-off notices for early 2013.