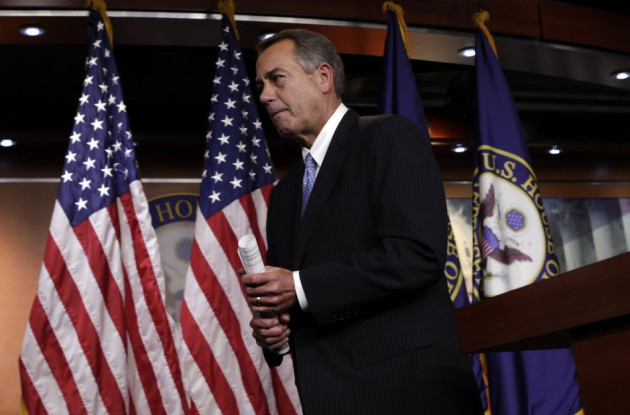 The US budget negotiations hit yet another roadblock as the Republicans called off a vote in the Congress aimed to bring in a backup plan to avert the fiscal cliff crisis.
The decision to cancel the vote was taken after the party failed to muster enough support for its leadership's "Plan B", which included increasing taxes on those earning more than $1m (£600,000/ €757,830) - a much smaller section compared to President Barack Obama's plan that sought tax hikes for those earning more than $400,000.
"The House did not take up the tax measure today because it did not have sufficient support from our members to pass," the Republican House of Representatives Speaker John Boehner said in a statement.
"Now it is up to the president to work with Senator (Harry) Reid on legislation to avert the fiscal cliff".
Boehner had earlier claimed that he was confident that his proposal would be passed, potentially putting pressure on Obama and the Senate. But the plan faltered as leaders failed to convince party members.
Democratic leaders had already indicated that they would not agree to the Plan B. White House had warned that it would veto the bill if it made through the Congress. Spokesman Jay Carney criticised Boehner saying that his plan was "multi-day exercise in futility at a time when we do not have the luxury of exercises in futility".
Following Boehner's decision to scrap the vote, White House press secretary issued a statement saying that Obama's main priority will be to make sure that tax for 98 percent US citizens and 97 percent small firms do not increase.
"The President will work with Congress to get this done and we are hopeful that we will be able to find a bipartisan solution quickly that protects the middle class and our economy".
The latest twist has increased concerns on the direction of the talks and has cast doubts on Boehner's ability to garner support among his own group. Lawmakers must strike a deal before the year-end to avoid an automatic tax hikes and spending cuts that threaten to push the economy into recession.
Democrats suggest that Boehner should continue talks with Obama to reach an agreement in time. Adam Jentleson, a spokesman for Senate Democratic Leader Harry Reid said that "the only way to avoid the cliff altogether is for Speaker Boehner to return to negotiations".
Opinion polls from the Reuters suggest that most United States citizens will put the blame on Republicans rather than Obama if talks fall through.