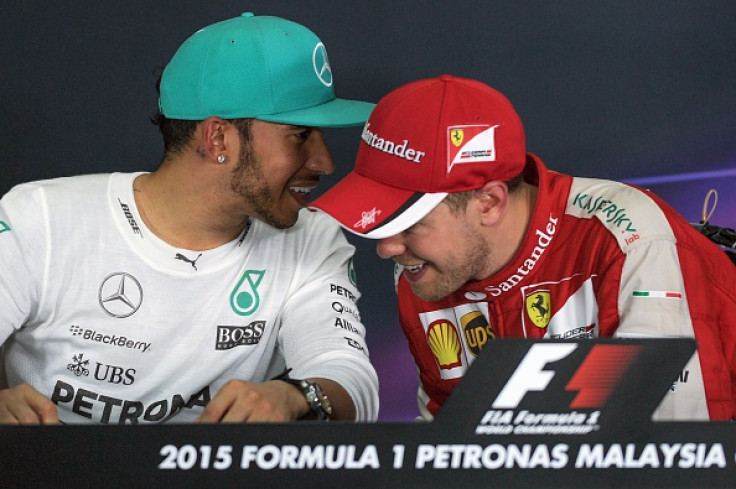 Ferrari driver Sebastian Vettel will serve a 10-place grid penalty at the 2015 United States Grand Prix on Sunday (25 October) for an engine change. This will boost championship leader Lewis Hamilton's chances of being crowned world champion at the Circuit of the Americas.
The Briton leads the Ferrari driver by 66 points in the Drivers' World Championship and needs to score nine points more than him and two points more than his teammate Nico Rosberg – in third place – to clinch a second consecutive and third overall title in F1. The German [Vettel] will have to finish second or higher to deny the reigning world champion in Austin, Texas, this weekend.
The four-time world champion confirmed on Thursday (22 October) that he will take the grid penalty as his Ferrari will be fitted with its fifth engine of the season, one more than the designated limit. Vettel, who will start no higher than the 11th place, was not overly concerned by the drop after admitting that it was the Maranello-based team's plan all along. The former Red Bull Racing driver is optimistic about his car's performance this weekend, as he battles Rosberg, who is seven points behind him, for the second place in the championship.
"We will have the hit of 10 places penalty for a new engine at this event. But it has always been the plan, it's not a big secret and no surprise for us," Vettel is quoted as saying by Sky Sports F1. "This was always the plan for us, to have the strongest engine available at every single point in the season. Our engine guys have done a massive job so this should not be understood as a down side. If anything, this is a very positive sign because we've been pushing very hard and the guys have managed to make big steps in terms of performance."
Mercedes are the favourite to record their 13th win of the season at the Circuit of the Americas, while Hamilton looks for his tenth win this year. Ferrari, however, will be hoping to push them all the way with a new upgraded engine and deny them the chance to wrap up their second triumph in as many races, after they were crowned 2015 Constructors' Champions during the previous race at the Suzuka International circuit in Japan.