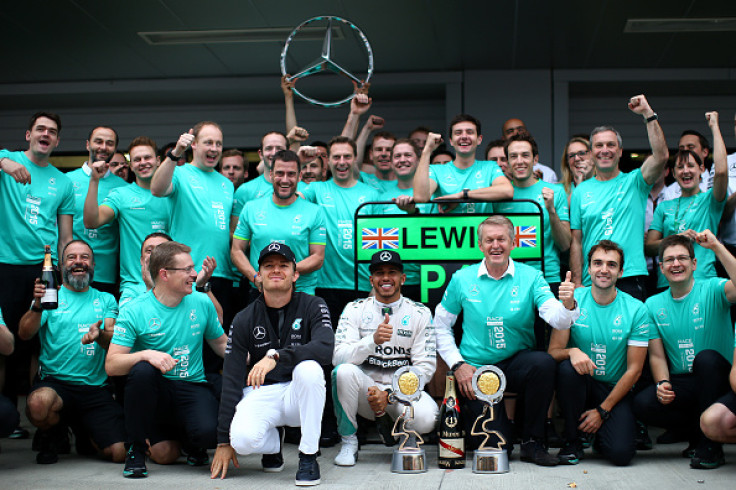 Mercedes F1 drivers Lewis Hamilton and Nico Rosberg praised each other following their team being crowned the 2015 Constructors' Champions for a second consecutive year at the Russian Grand Prix at Sochi Autodrom on 11 October. The duo endured a fractious relationship after going head-to-head in the championship during the 2014 campaign, but this season, has seen the Briton dominate winning nine out of the 15 races thus far.
Mercedes chief, Toto Wolff, said that both the drivers are winners as their team has found success, and it is such championship triumphs that help in building team camaraderie.
"Congratulations to the whole team. We've done it one more time and this championship unites everybody together - the drivers and the team in Brixworth and Brackley. From go-karting onwards, the titles that everybody talks about are the individual ones for the drivers, but this time both Nico and Lewis are winners," Wolff said, as quoted by ESPN F1.
Rosberg has endured a difficult 2015 campaign in F1 – if Hamilton dominating him throughout the season was not sufficient – the former Williams driver had his fair share of bad luck with regards to mechanical problems. The German failed to finish two of the last three races, with technical issues.
However, Hamilton understands his teammate's plight; since he endured similar spells last season before going on to win the title in final race at Abu Dhabi. "I have known Nico since I was four years old and we have been through ups and downs but overall he has been a great team-mate," Hamilton told Sky Sports.
"The way he handles himself and behaves as a team member is great. Yesterday was a tough day, and he has had some difficult days and l know what that is like, so l just wanted to make sure that he knew that as a team we still appreciate him," the Briton added.
Rosberg returned the compliment by saying that Hamilton, who is on the verge of sealing a third F1 world title, has been untouchable this season. Despite Vettel and Rosberg winning three-a-piece, it has been Hamilton's most dominant season thus far in his career. The Mercedes driver, however, is unwilling to throw in the towel just yet, as it is still mathematically possible for Rosberg to be crowned champion.
"He has done a great season and been even more consistent than last year, so it has been a very tough battle. But it is not over yet and l will try to beat him in some of the remaining races," the German [Rosberg] indicated to Sky Sports.