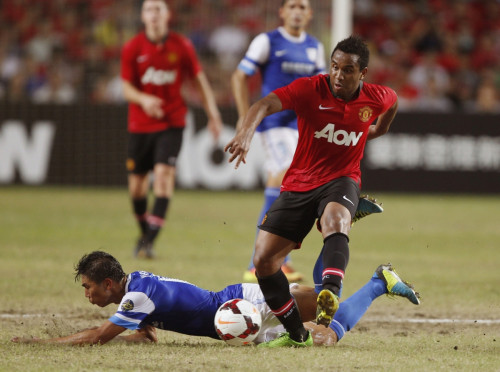 Brazilian midfielder Anderson will become the first high-profile victim of David Moyes' overhaul at Manchester United after confirming his desire to remain at Fiorentina on a permanent basis.
The 25 year old made 179 appearances across seven years at Old Trafford and played a peripheral role during Moyes' first six months in charge, starting just twice in the Premier League.
Anderson was one of a host of loan departures from United during the January transfer window, joining Serie A club Fiorentina until the end of the season, with a view to making the deal permanent at the end of the spell.
But after United handed Anderson's No.8 shirt to new signing Juan Mata, seemingly ending the former FC Porto midfielder's career at the Theatre of Dreams, the Brazil international has revealed he has already come to a decision regarding his future.
"To be honest I've not had the chance. He gave me one chance or a half but not a lot," he told The Sun.
"He is the manager and I have to respect him. He treated me well and he has a lot of players. I have to play and have my chance. It is better for me at Fiorentina."
"The manager wants me and has shown his trust, I can show him my football. Even though the contract is only on loan, I want to stay for a long time," he added.
"At United the fans love me and I like the club so much. Sometimes football changes and you have to change. It will improve me as well.
"There is a big opportunity to go to the Champions League, I've been very impressed here."
Anderson made the third appearance of his Fiorentina loan spell in the Coppa Italia defeat to Udinese on Tuesday and appears likely to play an influential role in ensuring the club return to the Champions League. The Viola have a six point lead over fifth place Verona with 16 games remaining.
While declaring his desire to leave United at the end of the season, Anderson has also moved to clarify comments regarding the future of current players at the club.
Anderson was quoted as suggesting a number of current United players want to leave at the end of the season, but has taken to Instagram in order to deny the claims.
"I'm shocked and surprised [by] a supposed interview that never existed," Anderson wrote. "I never gave any interview [and did not] say bad things about a club that I love, a club where I [grew] up and that gave me so much. I'm like [a] fan [of the] club, [I] love the club."
The midfielder was quotes by the Manchester Evening News saying: "I'm sure that lots of players want out, especially players like myself and Nani who have been in Manchester for seven or eight years.
"Manchester United is a huge club, a club that does everything for its players but sometimes a footballer wants to leave just to experience a different way to play football, to learn something as well.
"I am grateful to be here to try and win as many titles as I have in Manchester. Definitely I want to stay here.
"Playing in Manchester was great, it's a prestigious club with a lot of history but I've been there 7 or 8 years and I'm grateful to be here to show Fiorentina what I can do and fight for a spot in the starting line-up."