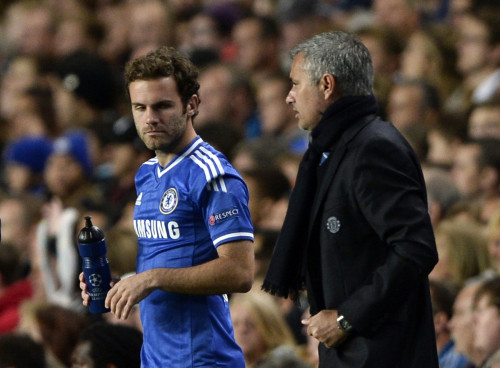 Manchester United's defiant stance over Chelsea's pursuit of Wayne Rooney is likely to stand in their way over any pursuit of playmaker Juan Mata.
United rejected two bids from the Blues in the summer and stated from boardroom level that they were unwilling to allow one of their prized assets leave the club for a major rival.
And as the Premier League champions plot a bid for Mata in a deal worth a reported £37m, the club may suffer in their pursuit of the Spaniard given their own stance over parting with their best players.
Chelsea manager Jose Mourinho said prior to his side's 3-1 win over United that the Old Trafford club "made it clear" that players will not be sold to direct rivals.
Even though the Portuguese manager made no comment regarding a potential situation regarding one of his own players, he is not expected to be receptive to a bid from United for Mata given his own analysis of the situation under David Moyes.
"I believe they have the targets clearly identified and, with a choice of bringing signings in now to close people's mouths or waiting a bit to bring in exactly who they want, they'd prefer to wait," Mourinho said.
"But sooner or later – sooner being now and later in the summer – they will bring exactly the players David wants. When a giant is sleeping, the giant is never [really] sleeping. Be careful."
Despite claiming successive Player of the Year awards in helping Chelsea first claim the Champions League and then the Europa League, Mata has made just 11 domestic starts under Mourinho and was an unused substitute for the win over United on Sunday.
Mourinho has publically stated his desire to keep Mata however with his position in Vicente del Bosque's provisional Spain squad for the World Cup not perilous but requiring assuring, the 25 year old could be tempted to move elsewhere.
Paris Saint Germain have been heavily linked with the player, a move that should it transpire would be ideal for Chelsea as he would remain away from United's clutches.
Though Manchester City continue to emerge, Chelsea and United have between them won eight of the last 10 Premier League titles and each claimed the Champions League in the past decade; firmly establishing themselves as the dominant pair in English football.
But given how Chelsea might compromise their standing should they allow Mata to move to the Theatre of Dreams, United appear likely to be denied once again as their pursuit of a creative midfielder continues.