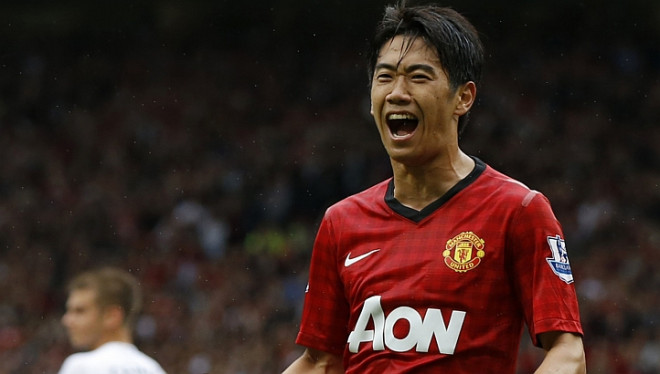 Manchesterter United forward Shinji Kagawa is ready to leave Old Trafford at the end of the season, with Besiktas and his former club Borussia Dortmund reportedly interested in taking advantage of his situation.
The 24-year-old offensive midfielder joined United in summer 2012 after the Premier League giants paid around £17m to secure his services, but the Japanese international has failed to make the impact expected during his first two season at the club, both under Sir Alex Ferguson and David Moyes.
Moyes is planning a massive clear-out at the end of the season and he is likely to part with Kagawa, especially after signing Juan Mata during the January transfer window.
The players is also keen on moving away and according to the Manchester Evening News Besiktas are set to tempt both the player and United with a big-money summer bid.
After an indifferent debut campaign at Old Trafford, it was expected that Kagawa would make an impact under Moyes but instead he has found himself on the sidelines, starting only seven Premier League games and being unused in the last five league matches.
Following Mata's arrival and after the impressive emergence of youngster Adnan Januzaj, Kagawa's chances of regular playing time are even lower, especially considering that he has not featured at all since the defeat to Sunderland in the Capital One Cup semi-final.
Borussia Dortmund are also reportedly interested in bringing Kagawa back to the Bundesliga, and some reports claim that the Japanese playmaker can be used as part of a deal for Ilkay Gundogan.
Meanwhile, Kagawa recently showed his frustration about his struggling campaign, suggesting that he is not happy at United.
"I still haven't scored any goals this season so I've felt very irritated. This is the first time in my career that I haven't been able to produce, so it's disappointing" he said.
"I pressure myself to score in every game but some days it feels like I just can't win. I know I have to overcome that; actually if I can't it really shows that I haven't grown as a player. So because of that I have to really focus on the second half of the season and overcome that mental block."