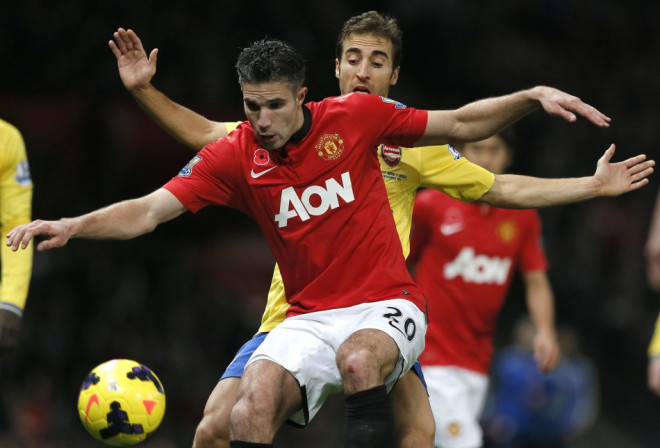 Former Netherlands international Ronald de Boer has warned Manchester United that David Moyes' success in the summer transfer window will heavily dictate Robin van Persie's future at Old Trafford.
After leading United to the Premier League title with 26 goals in his maiden season at Old Trafford, Van Persie has endured an injury-ravaged campaign and despite still managing 11 league goals from 16 appearances, he is understood to be frustrated by the club's travails under their new manager.
The 30 year old hit out at team-mates following the 2-0 Champions League last 16 first leg defeat to Olympiakos last week, and though he has apologised, reports abound that Van Persie could leave United this summer.
United trail Premier League leaders Chelsea by 18 points and after exiting the FA Cup in the third round, and being knocked out of the Capital One Cup by Sunderland, the club are consigned to ending the season without any major silverware in Moyes' first campaign.
Moyes' troubles in last summer's transfer window presaged United's dismal attempts to retain their title, with only Marouane Fellaini joining from Everton, but the January addition of Juan Mata for a club-record fee came with a promise of a deluge of spending this summer.
Wayne Rooney's new four-and-a-half year contract represented another indication of the support Moyes is expected to receive, not least the intent the club will show in returning them to their former glory.
And De Boer, capped 67 times at international level, says the off-season success in the transfer window will go a long way to shaping Van Persie's future
"I can imagine he is not happy because the team is not playing very well," he told talkSPORT. "He wants to go for prizes and everything is almost out of sight and this is very disappointing for a player of his standard.
"I also think this has to do with the fact he does not enjoy the football that they play and that is of course important. He is a team player but he likes to play beautiful football and it doesn't seem to go his way at this moment.
"There has been criticism but that is normal if you're a star player, people expect a lot.
"If you look at Man United in my opinion they need refreshment. There are players who have had an outstanding career but it is time to move over and get back on track because Man United should always be in the top four with their history.
"For Robin he feels that if that is happening he will stay but if the club cannot interest exciting new, young players from other clubs then you will think he will move."