One of New York's most prestigious hotels is set to drop Donald Trump's name from its title after a decade.
The Trump Organization, holding company for the US President's business ventures, said it was ending its licensing deal with the Trump SoHo Hotel in Manhattan, after the Trump International and Tower in Toronto said in June that it would also end its association with the company.
The building's management and licence contract were sold to California-based real investment firm CIM Group, which, however, did not disclose the financial details of the deal.
The news comes amid reports the hotel, situated in the SoHo neighbourhood of Manhattan, was struggling to attract customers.
In April this year, the hotel's sushi restaurant was closed and a lawyer for the restaurant chain, Koi Group, hinted the association with the US President had been detrimental to business. "Obviously since the election, business has gone down," he was quoted as saying by New York Magazine.
A number of NBA teams, including the Cleveland Cavaliers, recently openly revealed they would boycott the hotel over its ties with Trump, even though, as is the case with many Trump-branded developments, the Trump Organization does not own the property.
The hotel has been at the centre of a number of controversies. Trump's three oldest children were accused of defrauding buyers of condominiums in the building, in a case that was eventually settled in 2011.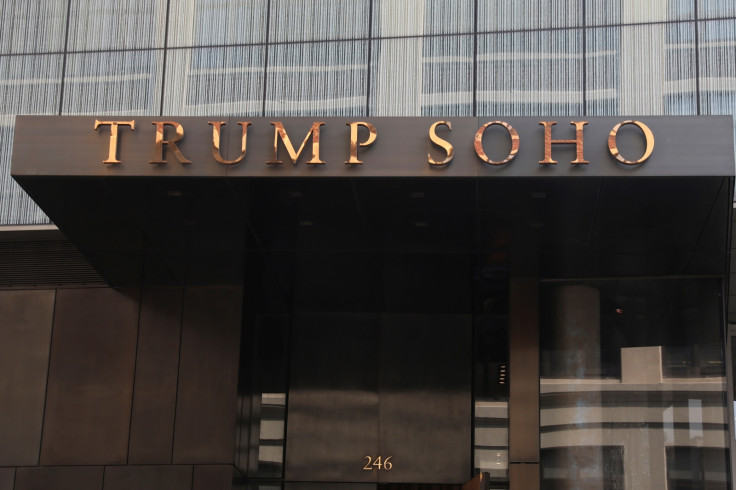 Last month, a New York prosecutor returned a $32,000 (£24,000) campaign contribution from a lawyer who represented the Trump Organization in the investigation. However, the prosecutor, who had opted to drop a probe sparked by the fraud case, insisted the financial contribution had played no role in its ruling.
The SoHo hotel is not the only Trump-branded property that appears to be struggling, with research showing that average room rates have plunged by as much as 63% at 12 of the US President's 13 hotels.
According to data released by currency provider FairFX, a two-night stay at Trump Las Vegas in January 2018 can be booked for £237, while it cost £637 in the corresponding period 12 months ago.
Rates for premium rooms have hardly fared better, with a two-night stay at in the executive suite at Trump Panama costing £814 in January next year, compared with £3,129 at the beginning of 2017.
One year after Trump's inauguration, prices for a weekend in one of his hotels have for the most part decreased," said Ian Strafford-Taylor, the chief executive of FairFX. "While big events, like the inauguration in Washington, will usually cause prices to rise in that city for a particular weekend, the decreases in other places suggest that it doesn't necessarily pay to be president."