Britain faces longest decline in living standards in 60 years
Resolution Foundation warns average earnings will not return to 2007 levels until 2025.
"The Budget document reads 'the United Kingdom has a bright future', the brutal truth is: not on these forecasts it doesn't."
Britain is on track to record its longest decline in living standards in six decades, a think tank has warned.
The Resolution Foundation said on Thursday (23 November) that UK households' budgets will be squeezed even more and for longer than they were after the 2008 financial crisis.
Real disposable incomes are set to fall for 19 consecutive quarters, the most prolonged decline since records began over 60 years ago, with tax and benefits policies set to pile even more pressure on living standards and exacerbate inequality.
According to the think tank, the policies would result in an annual average loss of £715 for the poorest households, while the richest third would receive approximately £185.
More worryingly, the Resolution Foundation warned wages will not return to levels seen before the financial crisis until 2025.
Adjusted for 2016 prices, average annual pay peaked in the autumn of 2007 at £31,644 but when inflation is taken into account, that level will not be reached until the middle of the next decade.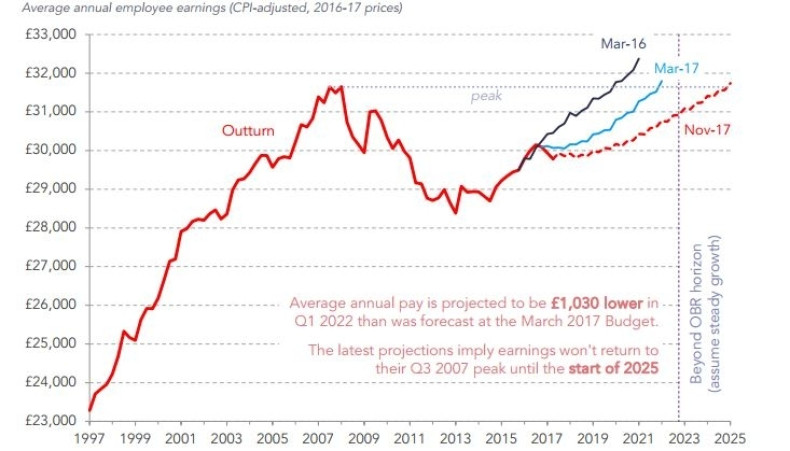 The report comes a day after the Office for Budget Responsibility (OBR) downgraded its forecast for economic growth. The OBR now expects Britain's economy to grow by 1.5% in 2017, revised down from the 2% forecast made in March.
Economic growth has also been cut to 1.4% in 2018, 1.3% in both 2019 and 2020, but growth would subsequently pick up back to 1.5%, and finally 1.6% in 2022.
As a result, the Resolution Foundation expects the UK economy to be £42bn smaller in 2022 than previously expected.
Delivering the first Autumn Budget in 21 years on Wednesday (22 November), Philip Hammond unveiled plans to scrap stamp duty for first time buyers up to £300,000, while those buying a home worth up to £500,000 will not have to pay stamp duty on the first £350,000.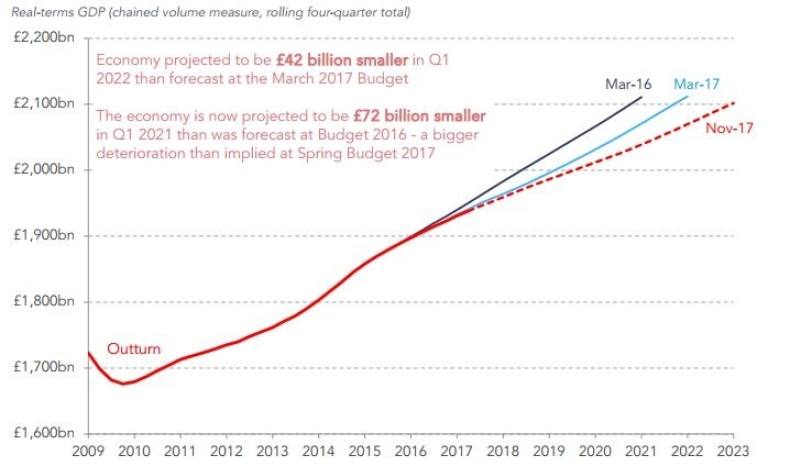 The move was part of a broader plan aimed at tackling Britain's ongoing housing issue. Hammond unveiled plans to build 300,000 new homes by 2020, in the "biggest annual increase in housing supply since 1970" and vowed to commit £44bn over the next five years to the housing market.
However, the Resolution Foundation said the changes were a "very poor way to boost home ownership", warning the move could result in prices going up 0.3% instead.
"Faced with a grim economic backdrop the chancellor will see this budget as a political success," said Torsten Bell, the director of the think tank.
"But that would be cold comfort for Britain's families given the bleak outlook it paints for their living standards.
"Hopefully the OBR's forecasts will prove to be wrong because, while the first sentence of the Budget document reads 'the United Kingdom has a bright future', the brutal truth is: not on these forecasts it doesn't."