Uruguay Striker Luis Suarez Can be Stopped Says England Goalkeeper Joe Hart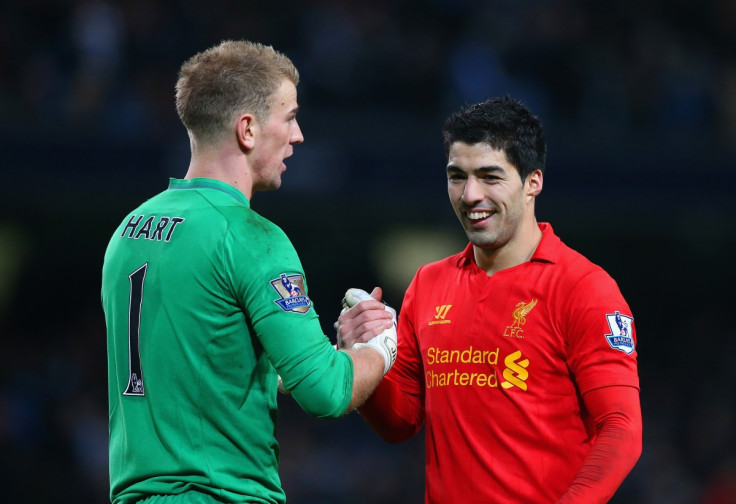 England goalkeeper Joe Hart says his side's significant Liverpool contingent will be crucial to stopping Uruguay forward Luis Suarez in their World Cup Group D encounter next week.
Captain Steven Gerrard, Jordan Henderson, Raheem Sterling, Glen Johnson and Daniel Sturridge all played alongside Suarez last season, a campaign during which the 27 year old scored 31 league goals as The Reds finished second in the Premier League.
Although Suarez is nursing a knee problem, he goes into the summer's World Cup as among the form players and England face a daunting task in their second group match when faced with the Uruguayan forward in their critical group game in Sao Paulo.
But Hart, who kept out Suarez in both of Manchester City and Liverpool's league meetings last season, says the five-strong contingent from Anfield – coupled with new signing Rickie Lambert, gives England a huge advantage heading into next Thursday's clash.
"The fact we know Suarez means we know that he'll cause trouble for us," Hart said. "There'll be some familiarity, and the Liverpool players will know him a lot better.
"I'm sure they'll give us their input on the different ways of stopping him. It's fair to say we are more familiar with Italy. We know a bit about Uruguay because of the Suarez factor and [Edinson] Cavani.
"Then Costa Rica are a bit more unknown at the moment. But we'll do our research. It's three really tough games – but it's a World Cup so you don't expect anything else.
"They're all dangerous, they all came through tough qualifying campaigns, Italy in Europe and the other two in South America. It's not easy to do that."
Liverpool forward Suarez is expected to miss Uruguay's opening group match against Costa Rica but could return for the clash with England to spearhead an attack that will be no stranger to Roy Hodgson's side.
Paris Saint Germain's Edinson Cavani, former Manchester United and Atletico Madrid forward Diego Forlan as well as Southampton midfielder Gaston Ramirez represent the other key threats in the Uruguay squad for England to cope with.
© Copyright IBTimes 2023. All rights reserved.