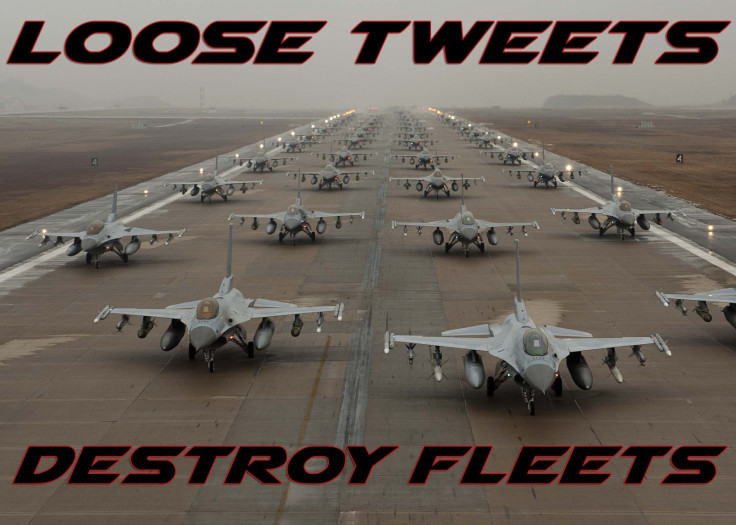 The US Air Force is warning its servicemen to be smarter about the information they post to friends and family on social media, as it could potentially put their lives and missions in jeopardy. It has released a notice to all personnel that carries the slogan "Loose tweets destroy fleets".
It is a reworking of a famous Second World War poster campaign created by the War Advertising Council, which read: "Loose lips sink ships." The phrase is so popular, it survives in American English as an idiom that advises citizens and servicemen to avoid careless talk about critical information that could be used by enemies of the US.
"As social media keeps evolving and there's more and more avenues to let your friends and family know what you are up to, those same avenues can be used by Isis sympathisers, 'lone wolves', to track down and hurt our military members outside the safety of the base," said AFCENT Force Protection chief Captain Jonathan McDonald.
"So not only is it important to not post vital mission related information, but it's also important to not post detailed personal information to keep yourself and your loved ones safe."
Check your social media security settings
In case servicemen are not clear about what specifically they should avoid posting about, the Air Force has also provided a Critical Information List, which includes: specific mission itineraries, status or objectives; methods or tactics; rotation dates, location or number of aircraft and personnel; software program passwords and user IDs; IP addresses and network connection diagrams; and specific locations of facilities or details to do with any future exercises.
McDonald also highlighted the fact that many social media accounts continue to be open for anyone to view on the internet as users often don't use security settings or understand how they work. "It's vital to check your security settings in your social media accounts to make sure that just your friends are able to see what you post and remember to be smart about what you post and share," he added.
Shred all documents, encrypt your email
On 11 August, Islamic State (Isis) sympathisers posted the details of what they claimed were emails, passwords, full names, locations and phone numbers relating to 1,500 US State Department, Army, Air Force and Navy staff.
However, the Register reported that many of the entries listed on the WordPress website corresponded to people who were not living in the US, including a woman working for Stockport Council in the UK. In fact, the information looked as if it had been taken from email addresses freely available on the internet.
A US Department of Defense source told the Register that the passwords listed were nowhere near strong enough to be used on its systems, but it seems as though the Air Force does not want to take any chances. The Air Force also advises its servicemen to protect and destroy all the critical information accordingly, use email encryption, shred all documents, including Post-it notes, and use a secure phone line.