US-backed forces in Syria allowed hundreds of vehicles belonging to Islamic State (Isis) fighters to leave the city of Manbij because they had civilians with them, a US military official said. The official said that some of the IS (Daesh) fighters may have returned to Turkey but many others remain in Syria.
Colonel Chris Garver, a spokesman for the US-led coalition fighting the terrorist organisation, told Pentagon reporters that the decision to allow the convoy to pass was made by commanders of the Syrian Democratic Forces, CBS News reported.
According to USA Today, the fighters agreed to surrender their weapons in exchange for safe passage out of the city. A US official, who remains unnamed because they are unable to discuss battle details, said the move likely saved hundreds of civilians despite allowing some militants to leave.
The official said militants turned over their weapons to SDF before leaving the city. Civilians were reportedly in each of the vehicles and the military did not want casualties.
Garver added that it is unknown how many of those civilians were in the vehicles voluntarily, but some may have been hostages. CBS News noted that during the fighting, SDF offered IS fighters safe passage but they refused.
IS has used civilians in the past as human shields against their opponents. "They kept throwing civilians to basically walk into the line of fire, trying to get them shot to use that potentially as propaganda, we think," Garver said.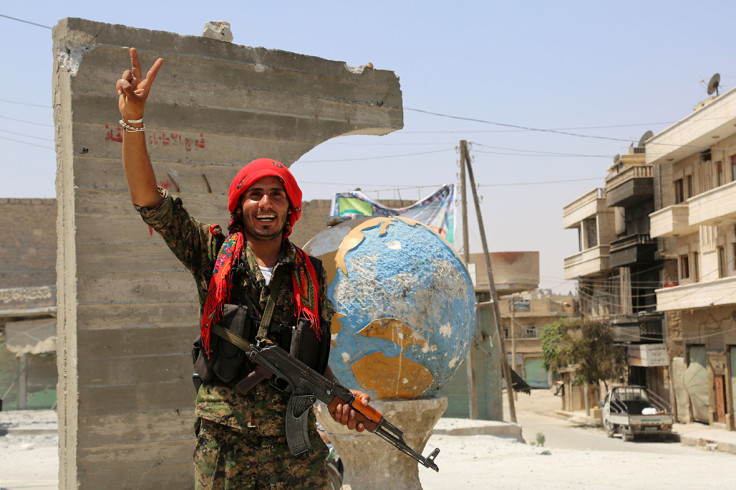 US advisers to the SDF agreed not to target the convoy with air strikes as it left the city. Garver told reporters that the coalition tracked the vehicles as they headed north but did not specify where they were. During the battle, coalition pilots reportedly used precision air strikes to disable several lanes on the bridge the IS fighters would later use to escape.
SDF is looking for militants and explosives as they clear neighbourhoods after gaining control of Manbij on 12 August. Garver noted there were a "significant number" of explosives left behind by the jihadists as they left the city.
Seizing control of Manbij is a major victory for the SDF and the coalition. The city lies on a major supply route between the Turkish border and IS' de facto capital of Raqqa in Syria. In the three months of intense fighting to recapture the city, an estimated 2,000 IS fighters were killed by air strikes.