The US ambassador to the UN is fighting back against claims that the US Embassy in Juba failed to respond as South Sudanese forces allegedly raped and attacked both foreign aid workers living in a residential complex, as well as locals.
However, witnesses claim that several embassies and the UN peacekeeping force failed to come to their aid on the 11 July attack on the Terrain Hotel Complex.
US Ambassador Samantha Power said the embassy in Juba did in fact respond to calls from the compound and "urgently contacted South Sudanese government officials, who sent a response force to the site to stop the attack," NBC News reported.
In a statement released on 15 August, Power said: "We are deeply concerned that United Nations peacekeepers were apparently either incapable of or unwilling to respond to calls for help." Power added that the US is demanding the UN take "swift corrective action" if the allegations are found to be true.
Power concluded: "The parties to the conflict must immediately cease attacks against innocent civilians and recommit to settle the conflict and leave the South Sudanese to live in peace at last."
The US State Department added that when it learned of the incident, it contacted South Sudan's National Security Service and the Presidential Guard to secure the scene. Around 80 Americans were taken to safety amid the violence.
"We condemn these attacks," State Department spokeswoman Elizabeth Trudeau said. "We have called for accountability for those who are involved in the violence."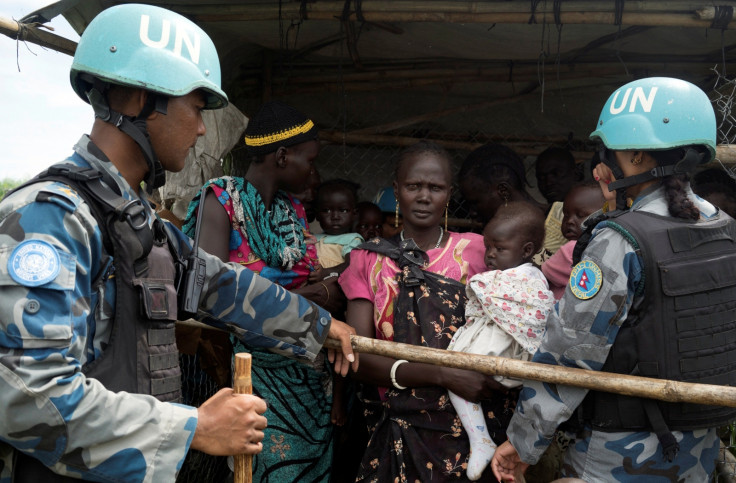 The allegations surfaced in a report by The Associated Press (AP), which reported government troops killed at least one local journalist, harassed aid workers, sexually assaulted foreign women and girls and carried out mock executions.The brutal attacks and killing occurred after South Sudanese soldiers defeated opposition forces in the capital.
"All of us were contacting whoever we could contact. The UN, the US embassy, contacting the specific battalions in the UN, contacting specific departments," a woman believed to have been raped by 15 men said.
Human Rights Watch released a report on the attack and claimed peacekeepers "guarding the UN base did not do enough to protect women from rape in surrounding areas. In one example reported by media on 17 July, soldiers dragged a woman away. Peacekeepers saw what was happening but did not take action."
The world's youngest nation has been rife with violence and poverty since it declared its independence from Sudan in 2011.
Forces loyal to South Sudan President Salva Kiir have battled supporters of Vice President Riek Machar. Machar was replaced by Taban Deng Gai, former minister of mining and chief negotiator of the Sudan People's Liberation Movement-in-Opposition (SPLM-IO).
Despite an August 2015 peace deal, ethnic-related violence has persisted.