US stocks closed higher on Thursday 23 June, with investors expecting voters in the UK will chose to remain in the European Union referendum. The pound sterling also reached year-to-date highs against the dollar as results of the Brexit vote expected overnight.
The Dow Jones Industrial Average surged 230.24 points, or 1.3%, to settle at 18,011.07. The blue-chips gauge closed above the psychologically key 18,000 level for the first time since 8 June, CNBC reported. Gains were led by a 3.1% rise in Goldman Sachs Group Inc shares.
The S&P 500 jumped 27.87 points, or 1.3%, to close at 2,113.32, its highest close since 9 June. According to MarketWatch, gains were led by financials, which advanced 2.1%. The Bank (KBE) and Regional Bank (KRE) ETFs closed almost 3% higher or more for their best performance in over a month, CNBC reported.
Meanwhile, the Nasdaq Composite rose 76.72 points, or 1.6%, to end at 4,910.04.
"I think the market's already voted. ...It looks like they're looking for the stay vote to prevail," Adam Sarhan, CEO of Sarhan Capital, told CNBC. "This could be a classic case of 'buy the rumour, sell the fact,'" he added.
Randy Frederick, managing director of trading and derivatives at Schwab Center for Financial Research, noted to MarketWatch: "A relief rally could ensue in the coming weeks, but substantial upside is likely to be limited by the same factors that have been weighing on the markets."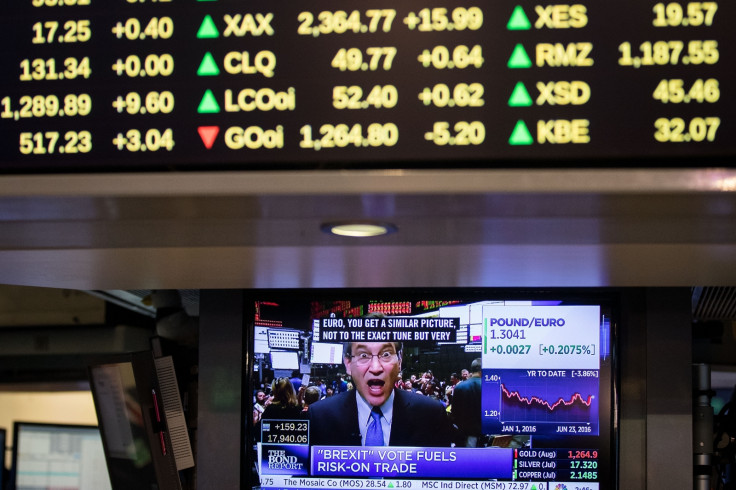 Analyst contend that the UK's decision to remain in the EU may be better for a sluggish market but the end of Brexit may not be the all encompassing saviour investors were searching for. "Investors will remain uncertain about the state of the economy and politics will continue to bring emotions into investing. Ultimately, investors are concerned about more than this singular event," Albert Brenner, director of asset allocation strategy at People's United Wealth Management, said.
Overseas, the European stocks closed higher while Asian markets closed mixed. The STOXX Europe 600 settled up 1.5%, as did the German DAX. In Asia, the Nikkei 225 closed over 1% higher but the Shanghai Composite ended about half a percent lower.
The US dollar index traded around 0.4% lower, with the euro near $1.138 and the yen near 105.9 yen against the greenback. The pound sterling traded near $1.490, its highest since December.
Treasury yields traded higher, with the 2-year yield near 0.78% and the 10-year yield near 1.74%. Gold futures for August dropped $6.90 (£4.73;€6.09) to $1,263.10 (£865.68;€1,115.32) an ounce.
US crude oil futures for August delivery jumped $0.98 (£0.67;€0.87), or 1.99%, to $50.11 (£34.34;€44.25) a barrel.