After nearly 26 hours, House Democrats, led by civil rights leader and Georgia Congressman, John Lewis, ended their dramatic sit-in in the Capitol over gun legislation reform. Lewis declared victory despite failing to force Republicans to vote on two controversial gun control bills and said the Democrats had managed to reach the American people.
"By sitting in, we're really standing up for the rest of America," Lewis said. "It's not a struggle that lasts for one day, one week, one month, one year." Lewis said he thinks that eventually those in favour of gun control reforms will emerge victorious. "We're going to win," he said, according to NBC News. "We're going to win big."
House Democrats launched the rarely used civil rights-era tactic at around 11.24am EDT/4.24pm VST on Wednesday 22 June.
After Republicans effectively shut off the TV cameras capturing the drama on the chamber floor, a number of representatives took to Periscope and Twitter to show the world what was going on.
They were even joined by several Senate Democrats, including Senator Elizabeth Warren. Those participating also received care packages, pizza and blankets during the 25 and a half hours they held the floor.
House Speaker Paul Ryan, a Republican, reconvened the session around 10pm EDT for a vote on a measure unrelated to the gun issue, but was met with a barrage of chants, including "No bill, no break!" Ryan and House Republicans held several of procedural votes and adjourned the session at 3.13am EDT, NBC News reported.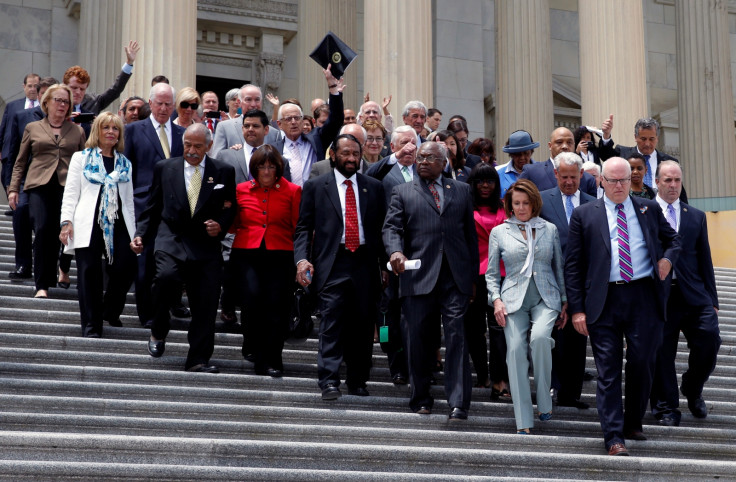 As they left the Capitol on 23 June, the Democrats were greeted by more than 100 cheering supporters. "Thank you for all your support," Lewis said. "Don't give up, don't give in. Keep the faith. Keep your eyes on the prize." They then locked arms and began singing "We Shall Overcome," a song often heard during nonviolent protests against segregation during the Civil Rights Movement.
The sit-in ended shortly after Republican House Speaker Paul Ryan criticised Democrats for launching, what he called, a: "...a publicity stunt, a fund-raising stunt". Ryan maintained he does not intend bringing up a vote for bills that would ban suspected terrorists on no-fly lists from purchasing weapons and impose universal background checks.
"We can disagree on policy, but we do so within the bounds of order and respect for the system, otherwise it all falls apart," Ryan said. "We are not going to allow stunts like this to stop us from carrying out the people's business."
House Minority Leader Nancy Pelosi, however, vowed Democrats would continue to pursue the issue, The Washington Post reported. "Now we have the take the actions which will enable us to meet our goal, which is to win the vote," Pelosi said. "You'll see more spontaneity as to the form things will take," she told reporters.
The House is on a long-scheduled Fourth of July recess and will reconvene on 5 July.