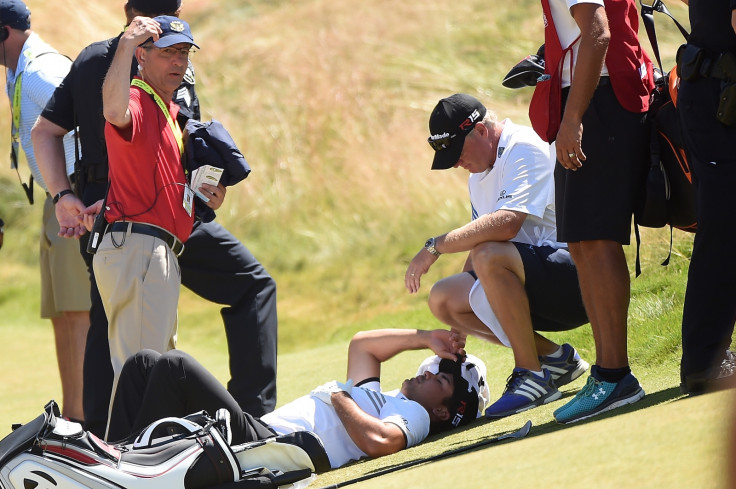 Jason Day caused real concern on day two of the 2015 US Open after collapsing at Chambers Bay due to a suspected bout of vertigo.
The Australian, who withdrew from the AT&T Byron Nelson Championship last month after suffering from dizziness and also pulled out of a World Golf event in 2014, was walking with caddie Colin Swatton along a sloped fairway towards the ninth green when he suddenly fell to the ground and required medical attention.
Having eventually got back to his feet, Day remained noticeably unsteady but resolved to complete his second round. He finished with a two-putt bogey for an even-par 70 that left him on two-under for the tournament.
"Jason is being treated on site at Chambers Bay after feeling dizzy near the end of his round," the player's agent, Bud Martin, said in a statement.
"We will provide more information later today after getting through the medical evaluation process. Jason wants to express his appreciation for all the good wishes from so many fans and friends."
American duo Patrick Reed and Jordan Spieth are currently tied for the lead on five-under, with the former finishing with a disappointing bogey that allowed his compatriot to close the gap from the clubhouse.
Masters winner Spieth claimed that his strong putting game was the key to remaining in contention ahead of the weekend.
"Two under each day is a goal that I want to do," he said. "My putter was on today, my driver wasn't but when your putter is on you can salvage a round. This is golf's toughest mental test. It's about testing patience. If my putter continues to stay hot we'll be in good shape."
Dustin Johnson is currently one shot back after finishing the day with a one-over 71. He is now tied with Branden Grace on four-under overall, but will no doubt be frustrated at having let his initial lead slip during the final few holes.
Elsewhere, Tiger Woods missed the cut at a major championship for only the fifth time in his illustrious career after following yesterday's first-round 80 with a six-over 76 that ended with an eighth bogey on the dreaded 18th.
The 39-year-old finished 16-over par and carded his worst ever 36-hole score to continue a desperate lack of form that contributed to him taking an indefinite break from golf earlier this year and also plummet to 195th in the world rankings.
"On a golf course like this, you can get exposed and you have to be precise and dialled in," Woods, who shot a 13-over par 85 at the Memorial Tournament in Ohio on 6 June, said of his latest poor performance.
"Obviously I didn't have that. Obviously I need to get a little better for the British Open, and I'll keep working at it.
"I hit it a little bit better today, but again I made nothing today. I didn't make any putts the first two days. I hit it better today, hitting some spots where I could hit some putts. I made nothing."
2011 champion Rory McIlroy narrowly managed to avoid missing the cut for a third successive tournament but has significant work to do over the weekend after a frustratingly inconsistent round of 72 that left him four-over.