A police officer from Massachusetts has been criticised after he appeared to use Facebook to laugh at the Charlottesville attack, which left one person dead and many more injured.
Conrad Lariviere, a patrolman from Springfield police department in Massachusetts, commented on a news article posted to Facebook regarding the tragic events in Charlottesville, Virginia that saw white supremacist James Alex Fields Jr drive a car into a crowd of anti-fascist supporters at a far-right rally, killing 32-year-old Heather Heyer.
Lariviere appeared to mock the incident as he wrote: "Hahahaha love this, maybe people shouldn't block roads" in response to the article. He then challenged the notion that Fields was a Nazi supporter, writing: "How do you know he was a nazi scumbag, stop being part of the problem."
Facebook users took offence to the comments and responded to Lariviere by saying "are you serious? A person DIED. 19 other people were injured, some badly. You love this?" Another comment simply said: "you are an idiot".
In the exchange one user challenged Lariviere by asking him "how many times has a car plowed into you?" to which he replied:
"Actually, I've been hit by a s**tbag with warrants but who cares right you ignorant brat live in a fantasy land with the rest of America while I deal with the real danger."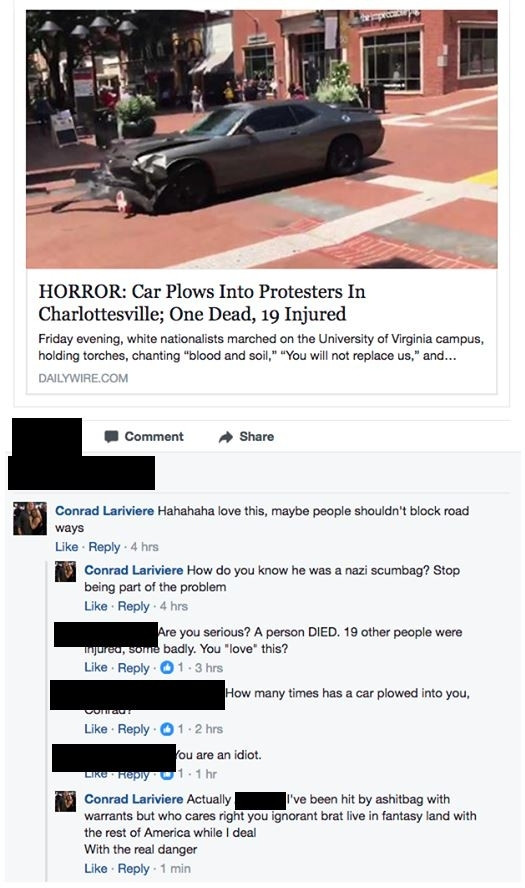 Springfield Police confirmed the comments were made by an individual employed by the department and have launched an investigation into the matter after they were alerted to the post.
"If in fact this post did originate from an officer employed with the Springfield Police Department, this matter will be reviewed by the Community Police Hearings Board for further action," said Springfield Police Commissioner John Barbieri.
The police officer in question has come out to apologise for his actions, expressing remorse for what he describes as a "stupid comment".
"Never would I want someone to get murdered. I am not a racist and don't believe in what any of those protesters are doing," Lariviere told Massachusetts news outlet MassLive. "I'm a good man who made a stupid comment and would just like to be left alone."
In response to the comments Democratic Mayor Domenic Sarno released a statement saying: "I just got done issuing a statement this morning on how upsetting the tragic incidents were in Charlottesville, Virginia and one of our own officers does this? Unbelievable! There is no place for this in our society, let alone from a Springfield Police Officer".
Horrifying footage can be seen of James Alex Fields Jr driving his Dodge Charger at crowds on 12 August and then reversing away during clash of right-wing and anti-fascist demonstrators over the planned removal of Charlottesville's Robert E. Lee statue. Fields is being charged with second degree murder, malicious wounding and failing to stop at an accident that resulted in death.