Shocked and angry Americans took to the streets of cities across the nation in protest after a white nationalist rally in Charlottesville, Virginia descended into deadly violence. Many Americans link a rise in fascism in the US to Donald Trump's election campaign, saying he courted the far right. Indeed, some of the white nationalists at the rally in Charlottesville cited Trump's victory, after a campaign of racially charged rhetoric, as validation for their beliefs.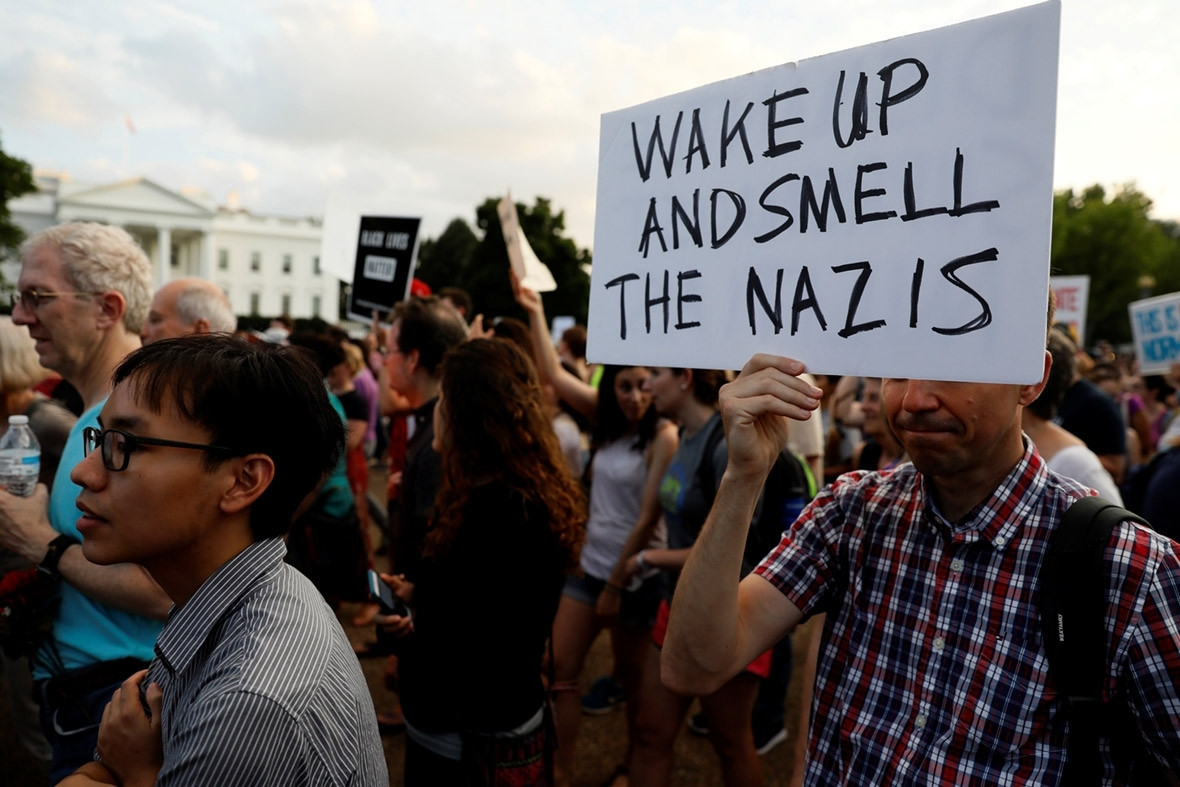 In New York, protesters marched to Trump Tower and demanded the president denounce the white nationalist groups involved in the violent confrontations. Carl Dix, a leader of the Refuse Fascism group organising demonstrations in New York, San Francisco and other cities, told AP something must be done about the rise of fascism: "People need to wake up, recognise that and resist it as fearlessly as it needs to be done. This can't be allowed to fester and to grow because we've seen what happened in the past when that was allowed."
Helen Rubenstein, 62, was among hundreds of people who marched through Los Angeles. She said her parents were Holocaust survivors, and she's worried that extremist views were becoming normal under Trump's presidency. "I blame Donald Trump 100 percent because he emboldened all these people to incite hate, and they are now promoting violence and killing," Rubenstein told AP.
A vigil honouring the victims of the violence was held outside the White House in Washington, DC. The slogans on many of the signs carried by protesters were aimed at the President, including "Wake up and smell the Nazis" and "Choose a side Donnie, it's not that hard".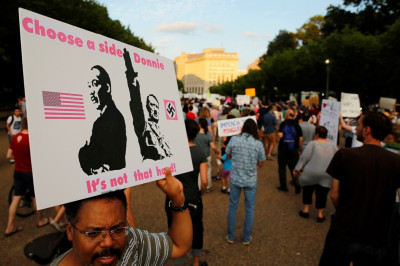 Charlottesville descended into violence after neo-Nazis, skinheads, Ku Klux Klan members and other white nationalists gathered to "take America back" and oppose plans to remove a Confederate statue in the Virginia college town, and hundreds of other people came to protest against the rally. The groups clashed in street brawls, with hundreds of people throwing punches and beating each other with sticks and shields.
Eventually, a car rammed into a peaceful crowd of anti-white-nationalist protesters, killing 32-year-old Heather Heyer. Former US Army enlistee James Alex Fields Jr, 20, a white Ohio man described by a former high school teacher as having been "infatuated" with Nazi ideology as a teenager, is due to be appear in court on murder and other charges stemming from the deadly car crash.
A Virginia State Police helicopter deployed in a large-scale response to the violence then crashed into the woods outside of town. Both troopers on board died.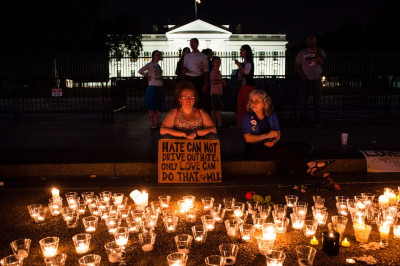 Democrats and Republicans criticised Trump for waiting too long to address the violence – the first major domestic crisis he has faced as president
When news of the situation in Charlottesville first started filtering out on Friday, Trump was silent. He first addressed the matter — through a tweet — on Saturday afternoon, after a planned white-supremacist rally had been dispersed, fights had broken out, and a state of emergency declared. By the time Trump finally appeared before reporters, footage of a car slamming into a crowd of protesters had swamped social media and cable TV networks.
Trump read a statement rebuking the violence, but without specifically mentioning or faulting the role of white nationalists. "We condemn in the strongest possible terms this egregious display of hatred, bigotry and violence on many sides - on many sides," Trump said. Afterwards, he ignored shouted questions from reporters as to whether he would denounce white supremacism and whether the car incident constituted terrorism.
That silence was cheered by the white supremacist website Daily Stormer: "When asked to condemn, he just walked out of the room. Really, really good. God bless him." A White House spokesperson later said Trump's remarks were meant to include the Ku Klux Klan and neo-Nazi groups.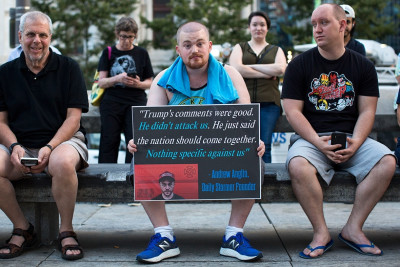 Both as a candidate and as president, Trump has met with charges that he has courted the support of white supremacists and nationalists, the so-called "alt-right," as a key part of his passionate voter base. He was forced to publicly denounce the Ku Klux Klan and one of its leaders, David Duke. After Trump was elected, he installed Steve Bannon, a trusted figure in nationalist circles and former chairman of the hard-right outlet Breitbart News, as a top adviser in the White House.