The US Secret Service has announced it will begin helicopter drone exercises around the Washington DC area, following an incident in January in which a drunk helicopter drone pilot crashed a DJI phantom on the lawn of the White House.
The agency refused to answer basic questions about the exercises during the announcement on 24 February, only stating that the unmanned aerial vehicles (UAV) will be flown "in the coming days and weeks" in "normally flight restricted areas".
The test flights have been carefully planned and coordinated with other US government agencies, and Secret Service spokesperson Nicole Mainar stressed all helicopter drone flights would be "tightly controlled", according to the Washington Post.
The incident with the UAV crashing on the White House lawn has highlighted a big hole in national security – namely, how to identify and disable unmanned aircraft before they get too close to important buildings.
Lawmakers warned about UAV security risks
In fact, just four days before the crash, lawmakers examining White House security had been warned by a panel of experts about this issue, with grave concerns expressed that the Secret Service lacked a way to stop UAVs in time.
Of course, at the moment, helicopter drones are small flying machines mostly flown by amateur drone enthusiasts.
But according to Wired, the Department of Homeland Security, the US military and the Federal Aviation Administration (FAA) have discussed the possibility of arming helicopter drones with semi-automatic weapons.
At the conference held in Virginia in January, which was open to civilians but not the press, US government officials played videos showing an exercise where $5,000 (£3,227.47) of UAVs were pitted against a convoy of armoured vehicles, with the result showing that the drones won.
US military fears drones being used as flying bombs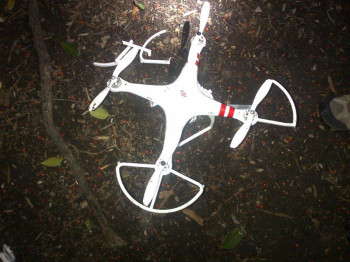 Attendees also reported seeing low-cost helicopter drones on display that had been converted into simulated flying bombs, such as a DJI Phantom 2 which had 3 pounds of inert explosive strapped to it.
Following the White House incident, China-based DJI rolled out a firmware update to prevent all of its drones from flying within a 15.5 mile radius of Washington DC but, following bugs in the patch, it rescinded the update a week later.
Nevertheless, helicopter drone enthusiasts are unhappy with any geofencing measures being put in place to limit where they can fly, and continue to petition the FAA about their proposed rules.
As for the commercial side, on 16 February, the FAA revealed proposals for commercial helicopter drone regulations that enable UAV operation, but only within line of sight, flying at a speed of less than 100mph and staying below 500ft in the air.