US Senate confirms Loretta Lynch as first black female US attorney general in historic vote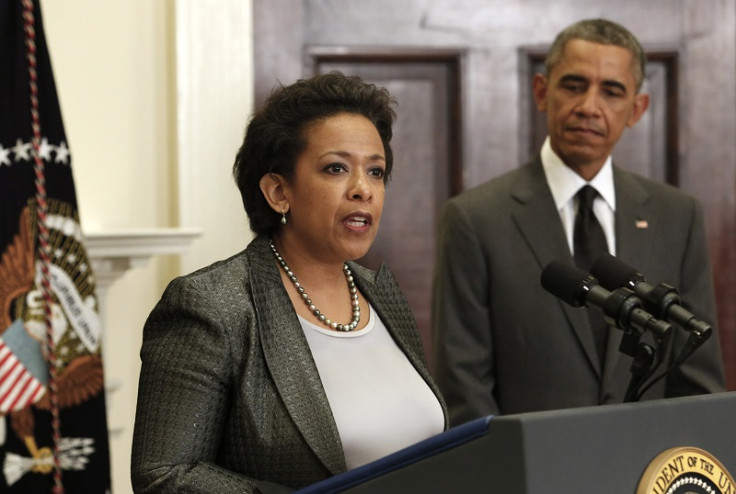 After a seemingly endless five-month battle, the US Senate voted to approve Loretta Lynch as the next attorney general on 23 April. Lynch, who was nominated by President Barack Obama, became the first black woman to hold the position with a vote of 56-43.
According to Reuters, the 55-year-old is expected to take over as head of the US Justice Department on 27 April. Lynch will be replacing Attorney General Eric Holder, who resigned from office in September 2014. She was officially nominated by the president in November and received backing from the Senate's Judiciary Committee on 26 February.
However, Lynch had limited support from Republican senators, with only 10 voting in favour of her appointment.
Many Republicans disapproved of Lynch's support for Obama's executive action on immigration reform. According to Reuters, Senator Jeff Sessions lambasted Lynch saying: "We do not have to confirm someone to the highest law enforcement position in America if that someone is publicly committed to denigrating Congress, violating law."
CNN reported that Republicans even went as far as to refuse to bring up her nomination up for vote until Democrats agreed on abortion language in a bill unrelated to her appointment. The disputed legislation was passed on 22 April.
'The good guys won'
The historic vote was witnessed by Lynch's father, Lorenzo A Lynch, who said: "The good guys won. That's what has happened in this country all along. Even during slavery. Levi Coffin was a founder of the Underground Railroad. Even during slavery. A white man fought against slavery. So all over this land good folks have stood in the right lane, in the right path."
Lynch, a two-term US attorney for the Eastern District of New York, was seen as less controversial than her predecessor and has vowed to improve relations with Congress, Reuters reported.
As the new attorney general, Lynch will be forced to deal with ongoing civil rights cases from incidents between police and unarmed black men. According to Reuters, she will also handle financial cases regarding allegations that major international banks helped their clients avoid paying US taxes.
In a written statement after the Senate vote, Obama said: "Today, the Senate finally confirmed Loretta Lynch to be America's next Attorney General — and America will be better off for it."
© Copyright IBTimes 2023. All rights reserved.