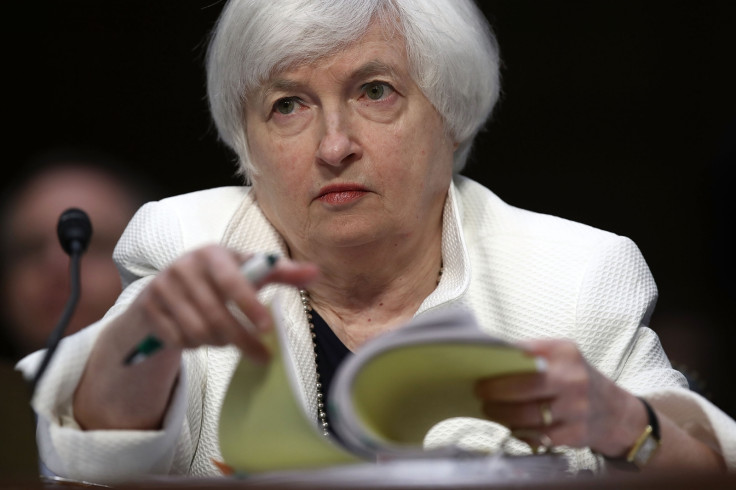 US stocks closed higher on 6 July following the release of the Fed minutes from its June meeting. The Federal Reserve's minutes revealed policymakers believed it was important to wait for more data and the EU referendum results before raising interest rates.
The minutes showed policymakers kept rates unchanged at last month's meeting due to a slowdown in hiring. According to CNBC, the non-farm payrolls report due 8 July is important data for the week.
"The jobs number really got under their skin," Chris Rupkey, chief financial economist at Bank of Tokyo-Mitsubishi UFJ, said to CNBC. "They have questions about whether the recovery is slowing, so the only thing that's going to lift this uncertainty is this Friday's report."
The major indexes reversed earlier losses to attempt gains prior to the minutes' release.
The Dow Jones Industrial Average advanced 78 points, or 0.4%, to settle at 17,918.62. Home Depot and UnitedHealth shares led the blue-chips gauge higher, while Boeing, DuPont and 3M weighed.
The S&P 500 jumped 11.18 points, or 0.5%, to close at 2,099.73. The healthcare and consumer discretionary sectors contributed the most to gains, while telecoms and utilities fell, MarketWatch reported.
Meanwhile, the Nasdaq Composite rose 36.26 points, or 0.8%, to finish at 4,859.16. Gains were led by a rise in biotechnology shares, including the iShares Nasdaq Biotechnology ETF (IBB) which was up 2.4%. The shares of Facebook, Amazon.com and Apple also rose.
US crude rose $0.83 (£0.64; €0.75), or 1.78%, to settle at $47.43 (£36.68;€42.73) a barrel ahead of inventory data due in the next 24 hours, CNBC reported.
According to MarketWatch, Treasury yields dropped to record lows earlier in the session but were able to reverse when demand for safe assets fell. The 10-year yield traded off an all-time low of 1.332% to settle at 1.385%. The 2-year yield was last near 0.58%, while the 30-year yield was last near 2.14%.
Overseas, European and Asian markets closed lower. In Europe, the STOXX Europe 600 dropped 1.7% and the German DAX fell 1.67%. Meanwhile in Asia, the Nikkei 225 plunged 1.85% and the Hang Seng dropped 1.23%.
The US dollar struggled for gains, with the euro near $1.11 and the yen near 101.3 yen against the greenback around 1.22pm EDT/6.22pm BST. The pound sterling dropped further to $1.293 after hitting a new 31-year low against the dollar overnight, CNBC reported. Gold futures for August delivery rose $8.40 (£6.50; €7.57) to $1,367.60 (£1,057.59; €1,232.18) an ounce.