Bad luck if you are holidaying in France, Spain or Portugal this summer and forgot to change your holiday pounds into euros before the EU Referendum – your spending money just become 10% more expensive thanks to the sinking pound (Chart 1).
But for every loser in these currency gyrations, there are winners.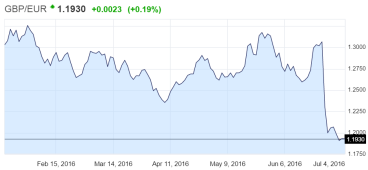 Given that the largest trading partner by far for the UK is the rest of the European Union, companies that export from the UK to Europe have gained a 10% competitive advantage through a cheaper currency.
In addition, companies that compete in global markets priced in US dollars should also benefit from the pound's sharp drop against the US dollar, from $1.49 pre-Referendum to just $1.29 today (6 July).
Here are the three major winners from a falling pound right now:
1) Aerospace & defence
Two stalwarts of the UK's aerospace and defence industry to benefit from a cheaper pound are BAE Systems (UK code: BA) and Rolls Royce (UK code: RR).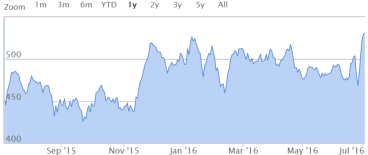 BAE Systems benefits from its heavy export exposure, priced generally in US dollars, to the US and Middle East as well as to Europe.
Following the pound's sharp depreciation against the dollar and euro, British Aerospace's share price hit a new 12-month high at 531p (Chart 2).
Rolls-Royce, a key global supplier of aircraft engines for civil airliners such as the Boeing 737 and Airbus A320 models, has also seen a share price bounce to hit a post-Referendum peak of 711p.
2) Pharmaceuticals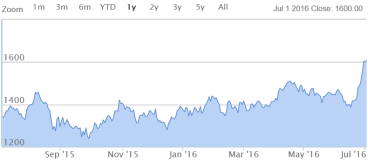 Healthcare companies listed in the UK such as GlaxoSmithKline (UK code: GSK) and AstraZeneca (UK code AZN) are also beneficiaries of a weak pound, as much of their global earnings come from the key US pharmaceutical market. As a result, analysts have raised their profit estimates for Glaxo for this year and next, as the weaker pound will boost their reported earnings.
At 1,650p, GlaxoSmithKline continues to make new share price highs (Chart 3), while offering a seductive income via a 5.1% dividend yield.
3) Professional services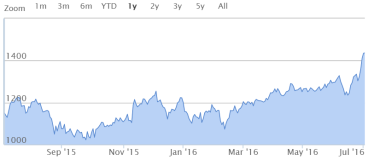 Two professional services companies with heavy overseas exposure that should be boosted by a weaker currency are Relx (UK code: REL) – the Anglo-Dutch business data and publishing company formerly called Reed Elsevier – and Experian (UK code: EXPN) which provides data services such as credit scoring worldwide (Chart 4).