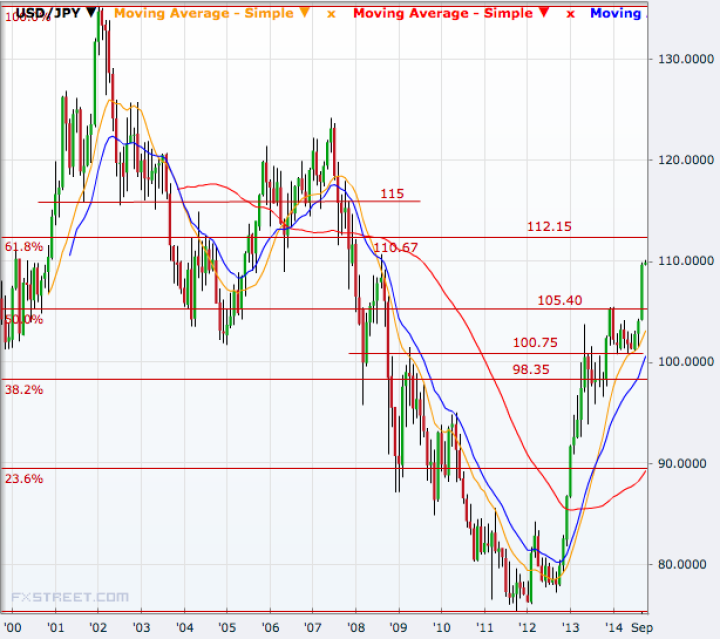 The USD/JPY pair has continued higher on the first day of October adding to the 5.6% rally in September with traders worldwide increasing bets for sooner rate hikes by the Federal Reserve.
The pair had failed twice last year to break 105.40, the 50% Fibonacci retracement of the 10-year selloff since 2001, but it successfully broke that level in September this year, opening up new highs.
With 110 broken and staying near there, the pair seems to be finding some resistance at 110.67, the August 2008 high. After that, the level to watch will be 112, near the 61.8% retracement.
A break of that will make the 120 target easier though 115 may offer some resistance on the way.
On the downside, 105.40 has become a support, which is the nearest important one as of now. A break of that will target 100.75 and then 98.35, with which the psychologically important 100-mark will be broken.
The market is now looking at the US jobs data on Friday, a stronger reading of which can aggravate the yen downside.
Traders said, fundamentally, the policy divergence of the US and Japanese central banks is the main reason for the sharp fall in the yen and the broad rally in the greenback.
Fitch Ratings said in its September Global Economic Outlook that it has maintained US GDP forecast of 3.1% for 2015 and 3% for 2016, up from 2.2% in 2014.
It, however, said the underlying momentum of the Japanese economy is uncertain after sharper-than-expected contraction in the second quarter this year. It has revised down the growth forecast to 1.4% in 2014, from 1.6% previously but maintained the 2015 and 2016 projections at 1.3%.