Broadband speeds in the UK differ greatly between postal codes, with as much as an 89 percent discrepancy between areas that are only a few miles apart.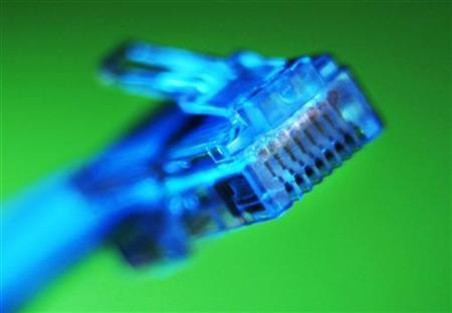 A new study from telecom provider uSwitch has shown that even in metropolitan areas like Birmingham and London download speeds vary greatly between households that are close to each other.
Of the 30 biggest UK post towns sampled, the greatest disparity between broadband speeds was found in Birmingham. In postal district B42, covering Perry Barr, Great Barr and Hamstead, the highest broadband speed was an impressive 20.9 megabytes per second (Mbps).
However, just a mile and a half away in the B35 area Great Vale, internet speed was down 89 percent to a sluggish 2.2Mbps.
Disparity was also high in Glasgow, where residents of Milton and Possilpark (postal area G22) could expect internet speeds of 20.5Mbps, whereas only six miles away in Easterhouse and Provanhall (G34) speeds were 85 percent lower, at 2.98Mbps.
Even London is affected by low broadband speeds and high disparity. In the postal area EC2Y which covers Barbican, speeds can be as low as 5.3Mbps whereas in Greenwich and Charlton, the SE postal area, speeds are as high as 22.46Mbps, a difference of 76 percent.
USwitch has also compiled a chart includuing the top ten broadband speeds per city in the UK. Despite the 89 percent disparity, Birmingham still has the highest speed on average, with London ranking fifth overall and Leeds at the bottom of the top ten.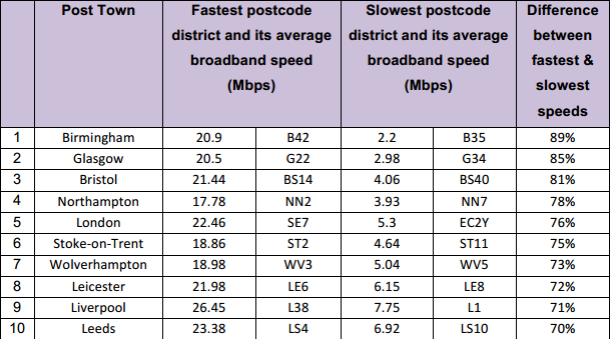 uSwitch also explained that, despite faster broadband being available in some areas affected by low speed, 65 percent of households surveyed were not aware that better internet was available to them.
Responding to the survey, as well as the government's plans to make UK broadband the fastest in the EU by 2015, uSwitch telecoms expert Marie-Louise Abretti said:
"Despite the Government's intense focus on super-fast speeds, this data reveals massive inconsistencies, with speeds fluctuating dramatically between areas located just a few miles apart. Although a recent Ofcom report revealed that the UK's average broadband speed has increased by a third in the last year, our data suggests that this isn't the whole picture.
"If you're still stuck suffering from slow or inconsistent speeds, check to see what serviceyou could be getting with another provider. Signing up to a fibre service is a sure fire way of speeding up your broadband - and almost two thirds of the country now has this option. However, many consumers either don't know about it or are put off by the price. It may cost you more, but could be worth it, especially as several providers have great introductory offers at the moment."