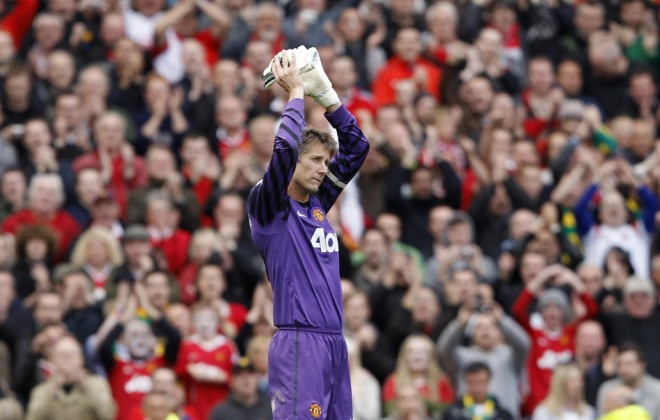 Former Manchester United stopper Edwin van der Sar believes that the Red Devils can do a Liverpool and challenge for the title after finishing in seventh position, like their arch rivals last season.
The Dutchman has won four league titles with the Red Devils and retired from the game after the end of the 2010/11 season with the league title in tow.
United have ably replaced him with Spanish stopper David de Gea who has taken over the mantle and has been among United's best players since his arrival..
However, United's fortunes have taken a nosedive following the retirement of Sir Alex Ferguson. The Red Devils finished the league in seventh spot, 21 points behind Champions Manchester City and have appointed Dutch national team manager Louis van Gaal to take over from David Moyes after the World Cup in a bid to come back into winning ways.
Van der Sar is confident that United can replicate Liverpool in the league and use the lack of European football as the means to challenge for the title yet again.
"Van Gaal will spend the right money on the right player to ensure that they are right for United," Van der Sar said.
"He will know if they have the United DNA of the club inside of them. If not he will let them go and let them go to other clubs. You have to play and you have to fight for Manchester United. Not only come for the money.
"What's more important? £20k or £30k more a week or the priviledge of playing for a coach like van Gaal?
"It's a massive club and if you are able to participate in that and contribute to winning a title then you are settled for life because you have the adoration of the club.
"It will be difficult to get from seventh to first, but Liverpool almost did it and I think United have more qualities than ­Liverpool on that score," he concluded.