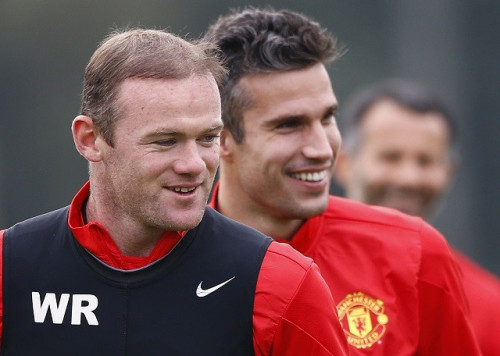 Manchester United striker Robin van Persie has hailed Wayne Rooney for his support and said his partnership with the England international can help the Red Devils salvage their season.
The Dutchman moved to Old Trafford from Arsenal in the summer of 2012 and played a crucial role in Sir Alex Ferguson's final season at Old Trafford as United went on to win the Premier League last season.
Van Persie scored 26 goals in the domestic competition and was the top scorer in the league last term. The former Gunners skipper claims that the Red Devils can overcome their poor start to the season, adding that Rooney has made him a better player.
"We realise that we [Rooney and I] are stronger when we are playing together, as a partnership. You are always stronger, in any sport, in life, when you are doing stuff together," Van Persie explained.
"With a player of Wayne's calibre, we can go from strength to strength, and we can become even better. One game he will score a couple, the next game I will score a couple. It is important that this partnership is becoming even stronger," he added.
The 30-year-old has failed to replicate last season's form under United's new manager David Moyes, as injuries have kept him out of action in recent times. In addition to this, the England international is on the sidelines with a groin injury and could be in contention to face Chelsea at Stamford Bridge.
United have struggled in the league under the former Everton manager as they lie seventh with 37 points from 21 games, trailing fourth-placed Liverpool by five points and league leaders Arsenal by 11 points.
The Premier League champions were knocked out of the FA Cup after losing 2-1 at home to Swansea City, and lost the first leg of their Capital One Cup semi-final against Sunderland.
Van Persie has backed Moyes to change things around, but insisted that the 50-year-old manager needs more time in order to do the same.
"Moyes needs time, he's new. The manager is our leading man and he will change things around. We lost too many points this year, but we are doing everything we can to change that," the former Arsenal skipper said.