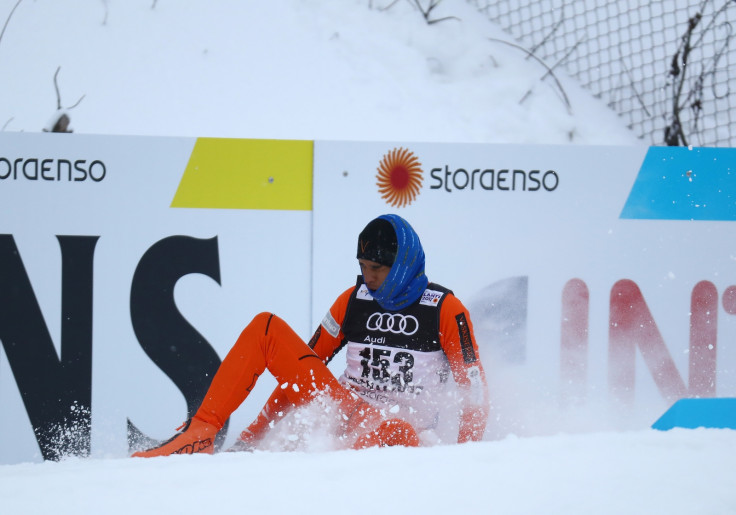 Eddie the Eagle Edwards looks to have competition after Venezuelan skier Adrian Solano took to the slopes at the Nordic World Ski Championships in Lahti, Finland, this week. The 22-year-old rose to fame after a video of his run went viral for all the wrong reasons.
Hoping to qualify for the men's 1.6km Cross-Country Sprint on Thursday, Salano was representing his country, but was later mocked by viewers after he wobbled his way on the run, falling a number of times.
After struggling to stay on his feet, Salano eventually finished in time of 13:49.33 – a massive 10:37.61 behind winner Sergey Ustiugov, from Russia.
Solano took to Instagram after his ill-fated mission to tell his fans: "Maybe I have fallen many times but what really counts is that I will always continue to rise."
Speaking to AFP, Solano admitted he had only ever practised on wheels prior to the event, after he missed out on the opportunity to train in Sweden a month before the competition.
According to Solano, after he was deported by French authorities, having flown into Paris, who did not believe he was a cross-country skier.
He said: "When I got to Paris on January 19, I explained that I was on my way to Sweden to train. They did not believe that I ski in Venezuela," he said.
"I told them that we train on wheels. I only had €28 with me and the police accused me of trying to immigrate because things were going badly in my country."
As well as infamous Eddie the Eagle, Solano also drew comparisons with Eric "The Eel" Moussambani from Equatorial Guinea, who won his heat in the 100m freestyle event at the 2000 Summer Olympics in 1:52.72 – the slowest time in Olympic history – after his two competitors were disqualified for false starts.
Like Solano, Moussambani was somewhat underprepared for the event, telling reporters afterwards: "I had never been in a pool that big before, I was very scared."
Though not everyone found it funny, with some replying to broadcaster Eurosport's tweet of the footage saying: "It's nice to let all countries participate, but they have the duty to practice a minimum before."