Samsung earlier announced the Galaxy S3 would go on sale with 50GB of Dropbox space free for the first two years and come pre-loaded with the Flipboard app. The latter is a popular social news reader similar to Google Currents and this was to be the first time it is available on an Android device.
However, it now appears, according to information from an individual believed to be a moderator/member of the Dropbox forum that two variants of the US Galaxy S3 - the AT&T and Verizon models - will not offer free storage space since the carriers opted out of any such deal.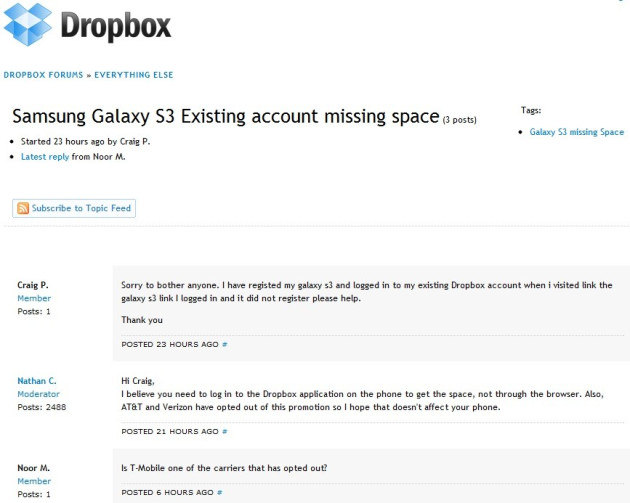 The rumour turned to be true and confirmation appeared on the official Dropbox support page. The reason for the two carriers opting out is still unclear though. There is, however, no word on other carriers' plans, suggesting they may well go through with the offer.
Meanwhile, there is speculation AT&T and Verizon are preparing to offer cloud storage solution of their own.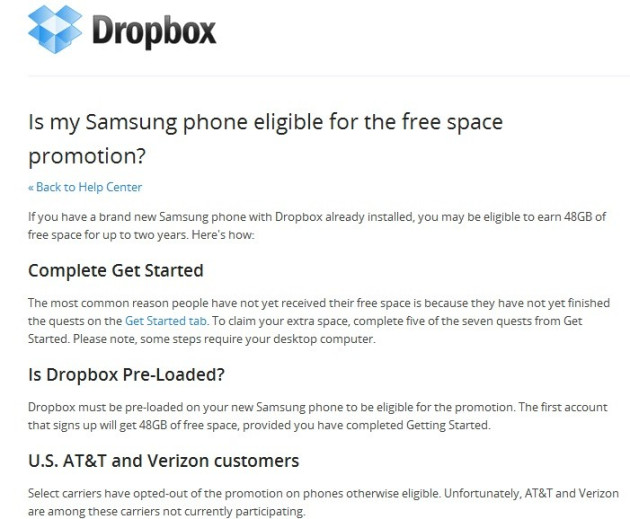 The Dropbox deal gives users 48GB of storage and a total of 50GB of free space. It appears only those models with Dropbox pre-loaded can access the extra 48GB, meaning that if the customer belongs to countries like China, Cuba, North Korea, Sudan and Syria will not be able to get the extra storage deal, according to Phone Arena.
Pre-orders for the Galaxy S3, in the US, began on 6 June, from AT&T and Verizon Wireless. Neither carrier has revealed release dates yet but it is clear Verizon will stock both 16GB and 32GB models (and in both colours) according to Mobile and Apps. AT&T will also offer red models later this summer.