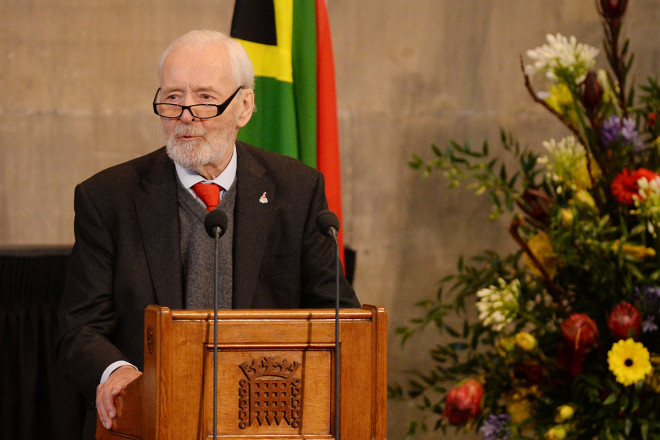 The family of Tony Benn has confirmed the veteran Labour politician died at his home on Friday morning.
In a statement his children Stephen, Hilary, Melissa and Joshua said: "It is with great sadness that we announce that our father Tony Benn died peacefully early this morning at his home in west London, surrounded by his family.
"We would like to express our heartfelt thanks to all the NHS staff and carers who have looked after him with such kindness in hospital and at home.
"We will miss above all his love which has sustained us throughout our lives. But we are comforted by the memory of his long, full and inspiring life and so proud of his devotion to helping others as he sought to change the world for the better."
The children of the left-wing activist added funeral arrangements would be made in due course.
Writer, speaker, campaigner
Tributes to the veteran policitican have been pouring in since the news broke of his death with Prime Minister David Cameron saying:
"Tony Benn was a magnificent writer, speaker and campaigner. There was never a dull moment listening to him, even if you disagreed with him."
Ed Miliband, the Labour leader, also paid tribute to a "great parliamentarian" who will be remembered as "a champion of the powerless".
"Tony Benn spoke his mind and spoke up for his values. Whether you agreed with him or disagreed with him, everyone knew where he stood and what he stood for. For someone of such strong views, often at odds with his party, he won respect from across the political spectrum," Miliband added.
Unwell
The Labour politician, who was an MP for 50 years and a cabinet minister under Harold Wilson and James Callaghan, had been hospitalised last month having reported feeling unwell.
Benn suffered a stroke last year, but following the death of his wife Caroline in 2000 he said he didn't fear death:
"I'm not ­frightened about death. I don't know why, but I just feel at a certain moment your switch is switched off and that's it. And you can't do anything about it.
"I think experiencing my wife's life and then death has encouraged me to feel like this."
Born Anthony Neil Wedgwood Benn in London on 3 April, 1925, Benn entered Parliament in November 1950 and served as Minister of Technology, Industry and Energy in both the Wilson and Callaghan Cabinets.
He opposed joining the Common Market and backed the miners' strike.
More to follow...