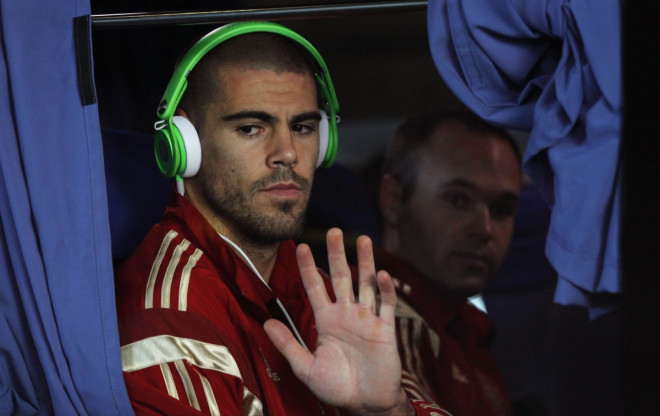 Barcelona goalkeeper Victor Valdes has fuelled speculation linking him with a move to Liverpool after revealing that a move to the Premier League would be a "very good option" for him.
The 32-year-old will end his 12 year career at the Nou Camp in search of a fresh challenge at the end of the season when his contract expires.
After spending over €100m last summer in their first step to establish themselves among the European elite Monaco are hoping to entice Valdes into a move to the principality, but the shot stopper is likely to have no shortage of suitors.
Manchester City, Arsenal and Liverpool have all been credited with interest in the 32-year-old, who admits the draw of Premier League football is something that interests him.
"I've always identified with your football, the way the supporters live the game and the respect they show the players," Valdes told the Daily Mail.
"It is one of the biggest leagues in the world, with the best clubs in the world and, without a doubt it's a very good option for me."
Catalan daily Sport suggested last month that negotiations between Valdes and Liverpool were underway, despite the club spending £10m on bringing Simon Mignolet to the club just last summer.
Meanwhile, Mundo Deportivo believe Manchester City are still mulling over a possible offer with the view of making the Spaniard their number one choice in goal over Joe Hart.
Ahead of his summer exit, Valdes still has the opportunity to conclude his Barcelona career in stunning fashion. Gerado Martino's side are still in the La Liga title race despite currently sitting four points off leaders Real Madrid while a Copa del Rey final against their old enemy awaits next month.
Barca can also seal their place in the quarter finals of the Champions League should they retain their advantage against Manchester City at the Nou Camp on Wednesday. The reigning La Liga champions lead 2-0 from the first leg but Valdes is wary of the threat posed by his former teammate Yaya Toure.
"Here, Yaya started as a holding midfielder and he had a way of playing that suited what Pep (Guardiola, Barca's former coach) wanted from a central defender, so he played there, too.
"But his strength is carrying the ball forward and that ultimately means you have to be playing further forward. He protects the ball so well and now you are all discovering something that I already knew only too well: he has some shot on him. I learned about that in training a long time ago!"
The Barcelona goalkeeper also admitted he has also been doing his homework on Sergio Aguero in order to keep the Argentine goal scorer at bay.
"He moves intelligently to get the wrong side of defenders and he gets his shot away very quickly," Valdes continued.
"I watched Wayne Rooney before Champions League finals, Ronaldo before El Clasicos. I don't like surprises; familiarity guards against that.
"You get in a one-on-one situation and you only have tenths of a second to decide, so it comes down to your intuition, but also the fact that you have analysed how the forward usually reacts comes into that."