This is the moment a father is reunited with his son after believing the boy had died from a poison gas attack in wartorn Syria.
The man was overcome by emotion as he gathered the small child in his arms.
In moving scenes the man could hardly contain his joy at seeing his son again that he almost collapses to the ground and is supported by relatives and friends.
The youngster looked happy to see his dad and the pair share a hug, before the man collapses onto a bench.
Footage of the moment has been viewed hundreds of thousands of times after being uploaded on YouTube on Monday.
Details on the identity and circumstances of the reunion are sketchy, but it appeared to have taken place in Damascus, in the neighbourhood of Zamalka, which was sunbjected to a poisonous gas attack, last week.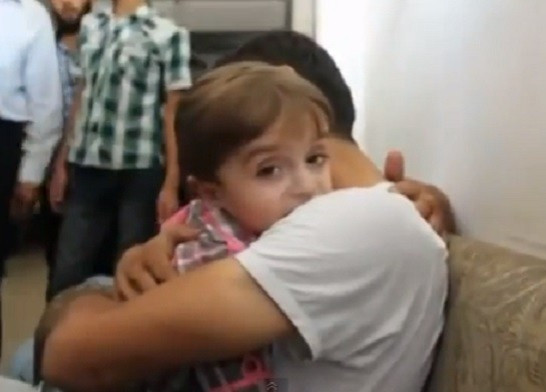 The area is in the hands of rebels who are fighting president Assad for control of the Middle East country.
Hundreds of people were reported killed when substances believed to be toxic chemical agents was released into the air. The attack has galvanised western nations to consider intervening in the civil war with military force.