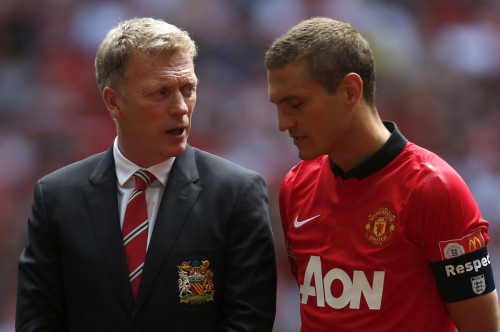 Manchester United manager David Moyes says Nemanja Vidic's departure at the end of the season is the "right decision" after the Serbian centre back earlier revealed he will leave the Premier league champions after eight years at Old Trafford.
The 32 year old has won 15 trophies during his United career but has suffered from a spate of serious knee injuries of late which has limited his influence.
Vidic's contract was due for renewal at the end of the season but instead the United skipper will become the first big name departure from the club since Moyes replaced Sir Alex Ferguson as manager last summer.
"It was something we mutually agreed together," said Moyes before United's Premier League game against Fulham. "Me and Nemanja. I think it was the right decision for both the club and the player.
"What I discussed with him will remain private but he has been a brilliant servant and captain for Manchester United. He is captain and will remain captain until the end of the season. He has been a great player for us and we will continue to play him.
"He's a great leader for this club and served the club really well and I would expect that to continue right up until the end of the season.
"I think people know that I've got things in my mind that I want to do and things I wanted to change in time. I can't do it all overnight. That wasn't the reason for this. As I said this was a decision that we mutually decided together. He felt it was the right time for him. We'll get on with it and we'll move on."
Vidic's decision to depart the club at the end of the season raises the possibility of Ryan Giggs, Rio Ferdinand and Patrice Evra – all of whom are in the final year of their contract – also leaving United in the summer.
While Vidic is on his way out, United are set to welcome back Phil Jones from injury for the home game against Fulham as the club look to improve on a run of two wins in five league games in 2014.