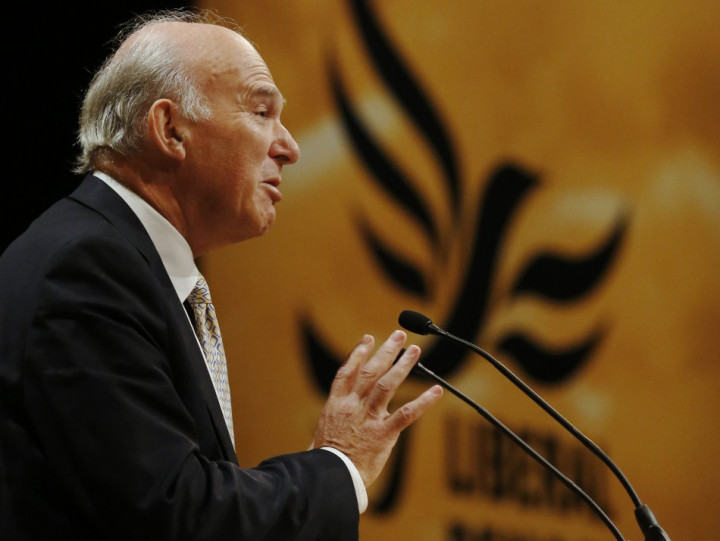 In his keynote speech to the Liberal Democrat conference, Vince Cable attacked Tories supporting a "hire and fire culture," alleging that sacking people was equivalent to a sexual thrill.
The Business Secretary also defended the coalition government's work in support of enterprises and predicted another hung parliament in 2015.
"We have seen off the 'head bangers' who want a hire and fire culture and seem to find sacking people an aphrodisiac: totally irrelevant in a country with flexible labour markets which have created over a million private sector jobs in the last two years,"
"Instead, we have concentrated on practical tribunal reform and supported progressive firms who want worker participation and share ownership."
In Brighton Cable said he does not believe that any party will win the 2015 election and added that Lib-Dem should run as a "totally independent, national, credible challenger for power."
He didn't reject the possibility of a future coalition government with Labour, defending his talks with senior Labour members.
"We remain willing to work with other parties in the wider national interest," he said.
Cable also teased Tries joking on the internal rivalry between Cameron and London mayor Boris Johnson and indirectly criticizing Tory chief whip Andrew Mitchell over his recent controversial rant against police.
"Most of our MPs will face Conservatives at the next general election. They face the enticing prospect of a Tory split. Now I don't know what Boris and Dave got up to in Eton. Perhaps a pillow fight got out of control in the dormitories. I have been told, however, that jokes about social class are not good for the unity of the coalition. But as a mere 'pleb', I couldn't resist it."
Cable also confirmed plans for the government to create a new business bank capitalised with £1 billion of taxpayers' money to offer long-term financing to small and medium-sized companies.