AC Milan manager Vincenzo Montella has revealed M'Baye Niang may leave the San Siro this month. Arsenal and West Ham United are said to be interested in the forward who Montella believes is 'distracted' by speculation over his future.
Niang joined Milan in the summer of 2012 but has never really fulfilled his vast potential and is also being linked with moves to Serie A outfits Torino and Genoa. The Frenchman has made 13 league starts for the Rossoneri this season, scoring three goals.
"Niang might leave the club," Montella told Milan TV, reported The Mirror. "He's discussing it with the management. He won't be called up for the game against Juventus as I thought he would definitely have been distracted."
Niang has largely had to play second fiddle to Colombian forward Carlos Bacca in recent seasons, but has received a substantial amount of game-time so far this campaign. Former Fiorentina boss Montella has given the former Caen starlet, who had a trial with Everton before moving to Italy, a number of chances to spearhead Milan's attack but he does not think the towering attacker is making enough progress.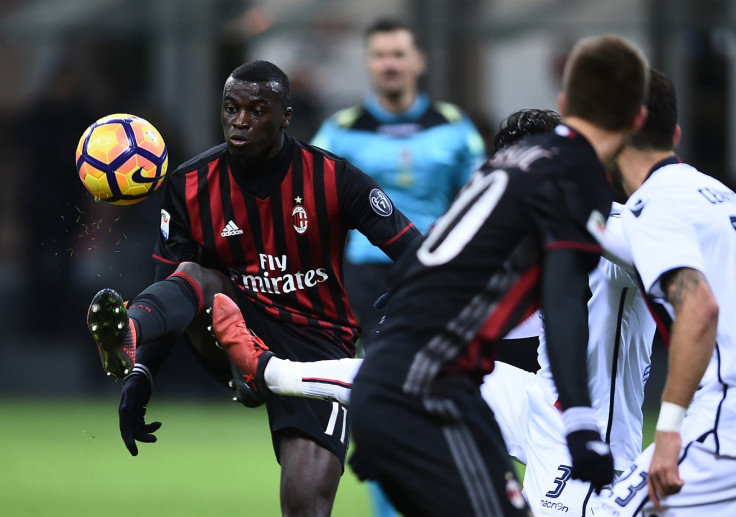 "He's always been involved in normal situations," Montella added. "Sometimes he's been on the fringes but he's never been out. As long as he's a Milan player he'll get the consideration he deserves. He has made himself available right from the start and he's trying to grow so he can manage his talent better.
"He's a player who has had his ups and downs and there are things he needs to improve. We tried, and we got to a point where we were delighted with the results - the boy was, too - and I'm not talking about technical results. He got to a certain point and then stopped, and I won't pretend to know why, nor do I want to say."