Titanic Violin Sells for £900,000 at Auction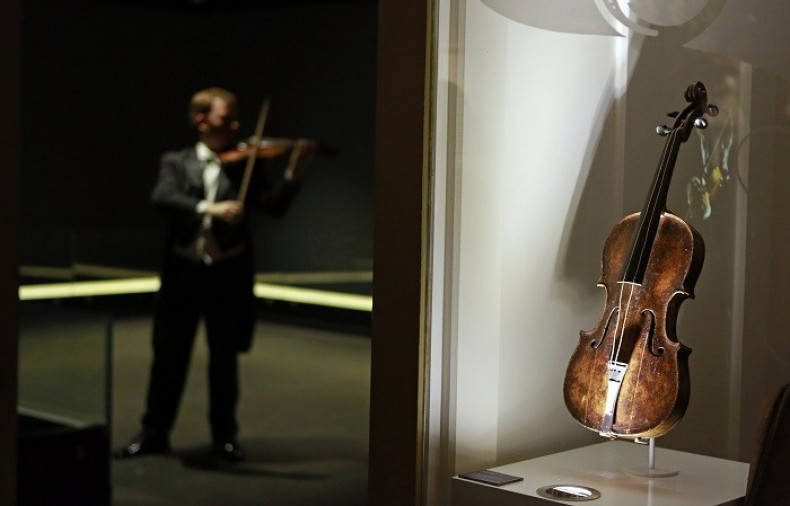 The violin that played on to calm passengers on the Titanic as it sank beneath the ocean waves sold for a record £900,000 at auction in the UK on Saturday.
Wallace Hartley was playing the violin, most famously the hymn Nearer My God To Thee, with seven fellow band members when the luxury liner hit an iceberg in the North Atlantic on 14 April 1912. They died along with 1,517 others as the ship went down.
Hartley's violin, which had been valued at between £300,000 and £400,000, was a gift from his fiancee Maria Robinson.
It was reportedly found in a case strapped to his body when it was recovered from the icy waters.
Other items up for sale at the auction in Wiltshire included his sheet music and the bag he kept it in.
Auctioneer Alan Aldridge said the violin was the "rarest and most iconic" piece of Titanic memorabilia.
It has taken seven years for the auction house, Henry Aldridge & Son, to authenticate the instrument after it was reportedly discovered in an attic in Yorkshire, in 2006, prompting strong debate over its authenticity.
Andrew Aldridge, a valuer with the auctioneer, said worldwide interest in the instrument had produced a world record fee for a single piece of Titanic memorabilia.
Andrew Aldridge said: "It symbolises love, with a young man strapping it to his body because it was an engagement present from his fiancee. It also epitomises bravery. He knew there would be no lifeboats.
"It symbolises everything that's good about people, not just Wallace Hartley and his band, but all the men, women and children who lost their lives."
The violin has been on exhibition since May at Titanic Branson and Titanic Pigeon Forge in the United States, the largest Titanic museums in the world, where over 315,000 viewed it, and also at Titanic Belfast.
Andrew Aldridge also took the violin to Hartley's home town of Dewsbury, Yorkshire, this week ahead of the sale.
"I hope it stays in the UK and goes on exhibition," he said on Friday. "There are interested buyers in the UK but also in the US and Asia, so it could go anywhere."
The identity of the buyer has not yet been revealed.
The violin itself is German, probably Berlin or Dresden school, circa 1880s.