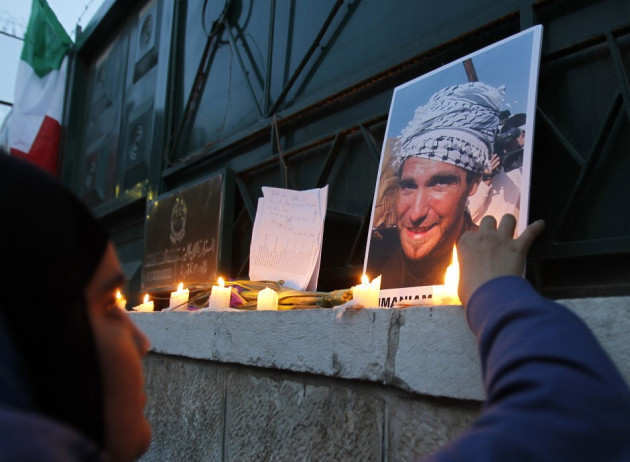 A court in Gaza has convicted four men for the killing of an Italian pro-Palestinian activist in the troubled middle east region.
Vittorio Arrigoni was abducted and murdered in April 2011 by members of the ultra-conservative Islamist Salafist group Tawhid wal-Jihad
Mahmud al-Salfiti and Tamer al-Husasna were given life sentences for the kidnapping and subsequent murder. Khadr Faruk Jerim received 10 years for abducting the victim, and Amer Abu Ghola received a one-year sentence for providing the apartment where the activist was found.
Arrigoni was among a group of activists who revived the International Solidarity Movement (ISM), working closely with fishermen and farmers from 2008 until his death. He took part in the Free Gaza mission in August 2008, whose purpose was to break the Israeli blockade and bring aid to the Gaza Strip.
As a reporter Arrigoni covered the Israel military offensive Operation Cast Lead, which took place during the winter of 2008-9, for a string of Italian media including the Radio Popolare station, the Il Manifesto newspaper and the Peace Reporter magazine. He was one of the few foreigners to report the Israeli offensive from the scene.
In 2009 Arrigoni received a death threat from a US far-right website, which carried his picture and information on his physical traits to any would-be killers.
Undeterred, the activist continued to describe the Israeli blockade of Gaza as "criminal" on his website, Guerrila Radio. A week before his death, he described four Palestinians who died in an explosion on the Egypt-Israel border as "martyrs".
His motto was Restiamo Umani (Stay Human), also a title of his book about his experiences in Gaza.
"He always said: 'Let us remain human, even in the most difficult moments,'" Egidia Beretta, his mother, told the Guardian.
"I would ask him: 'How can you stay human at certain times?' And he would answer: 'Because, despite everything, there must always be humanity within us. We have to bring it to others.'"
Following Arrigoni's death, Khaleel Shaheen of the Palestinian Centre for Human Rights in Gaza, said:
"What has happened is a black day in Palestinian history. The horrific murder of our friend Vittorio is totally condemned. We ask the local authorities to bring the criminals to justice as soon as possible. He is in our minds always. He is a hero of Palestine."