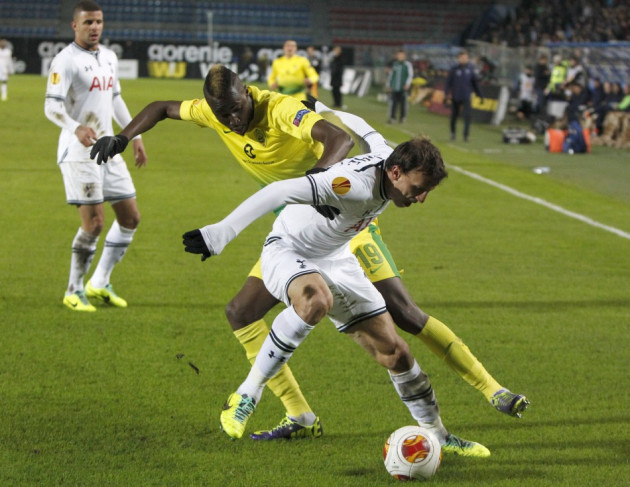 Tottenham Hotspur manager Andre Villas-Boas has rubbished suggestions from defender Vlad Chiriches' agent that the Romanian could join Chelsea after two seasons at White Hart Lane.
Chiriches joined Spurs in the summer transfer window from Steaua Bucharest and has made two appearances for the north Londoners in the League Cup win over Aston Villa and the Europa League success against Anzhi Makhachkala.
The 23 year old, who has occasionally captained Romania, is yet to make an appearance in the Premier League but speaking regarding his client last week, agent Victor Becali says Chelsea will be interesting in landing the defender should he impress
"If he has one or two good seasons at Tottenham, Chelsea will be willing to pay a large sum to buy Chiriches," said Becali, as reported in the Express. "Mourinho says he has been aware of him since he was at Real Madrid."
Villas-Boas, a former Chelsea manager, has reacted to the claim, criticising the representative for comment which are 'out of proportion' according to the Tottenham manager.
"Obviously the comments are completely disproportionate and out of reality," he said.
"I have spoken to the player, told the player to speak to the agent and we have acted accordingly. We consider ourselves a big club. We're not a stepping stone to anybody.
"We don't expect Becali to retract himself because it is not part of his character, but it was completely out of proportion the comments that he made."
Tottenham made eight signings in the summer transfer window to offset the loss of Gareth Bale, who joined Real Madrid for a world record fee but the new faces have yet to gel sufficiently, with Spurs having lost two of their opening seven league games.
Defeat to West Ham United came as a major shock to Villas-Boas, who has downplayed his side's hopes of contesting for the Premier League title this season.
"West Ham deserve full credit, they played very, very well," added Villas-Boas.
"The first half we played well, but not enough to score. We started the second half very strongly, but unfortunately for us their set-play goal came a little bit against the run of play.
"They totally deserved it, and every time we tried to make changes to come back into the game, they scored again. The three goals came in a quick sequence, which did not allow us to bounce back and react."