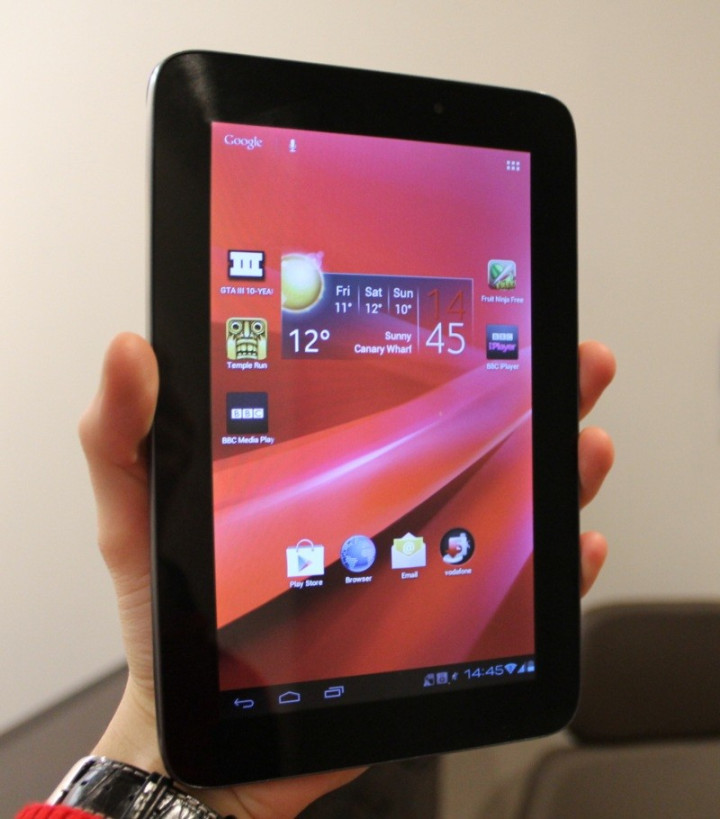 Key Features:
7in display with 600 x 1024 resolution
4GB internal storage, expandable via microSD
1GHz single-core processor with 1GB RAM
Android 4.0 (Ice Cream Sandwich)
Price: £149 pay-as-you-go, or £29 on a £20-per-month, two-year contract, from Vodafone
Business tariffs from £24.17, then £16.67 per month for 2GB of mobile data, 24 months.
Vodafone Smart Tab 2: Introduction
If you're in the market for a 7in tablet then you are very well catered for. Amazon, Barnes & Noble, Kobo, Google, Samsung and Apple all offer tablets this size, with prices ranging from £159 to £269 for the base models, but some miss out on 3G connectivity.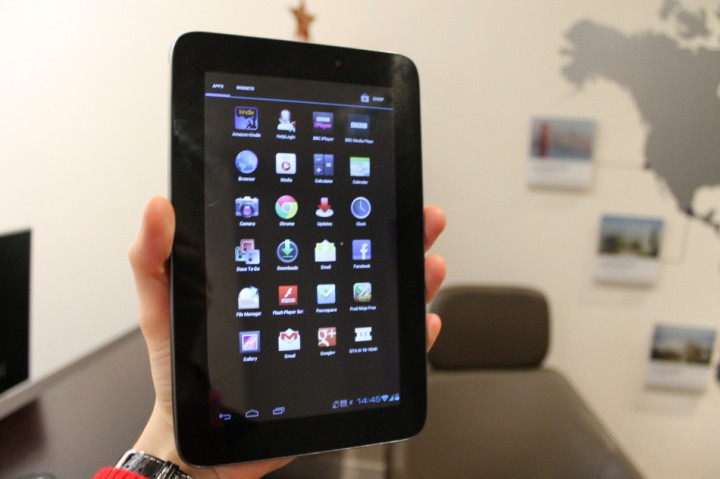 The Google Nexus 7 and Apple iPad mini offer 3G and a 7in screen, but as they cost £239 and from £369 respectively, Vodafone and Lenovo hope their second-generation Smart Tab 7 will be an option for those wanting a 3G tablet on a budget.
The Smart Tab 2 has a less impressive specification sheet than the original Smart Tab it replaces, but with prices starting at £149 on PAYG or £29 up front on a £20-a-month contract, the Smart Tab 2 hopes to offer a compromise between price and performance.
Vodafone Smart Tab 2: Design and Feel
Made in partnership with laptop maker Lenovo, the Vodafone Smart Tab 2 is fronted by a glass-covered 7in screen, with an off-centre front-facing camera at the top for video calls.
The left edge is completely blank, the right side has a volume rocker, and the top houses a headphone jack, power button and microUSB port for charging and transferring files.
Lenovo has given the back cover a dotted, textured finish similar to that of the Google Nexus 7 and it helps you to grip the Smart Tab comfortably without the risk of it slipping out of your hand.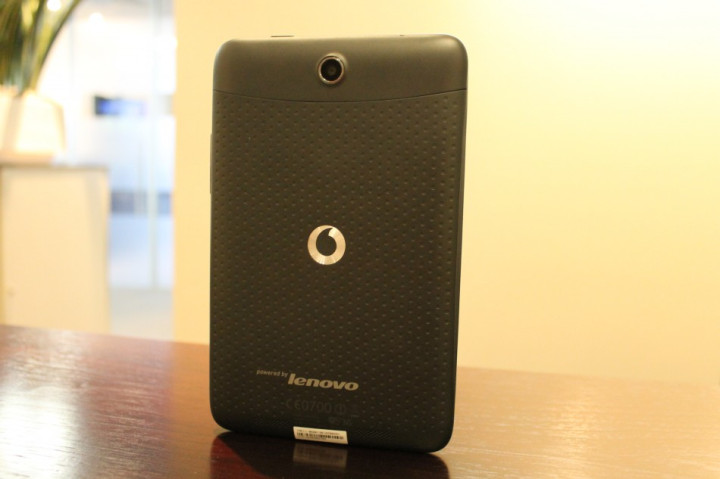 Slide off the top of the Smart Tab's rear cover and you'll find access to the full-size SIM and microSD card slots; the latter was a welcome discovery after I found the tablet has just 4GB of internal storage.
Compared to the 8GB or 16GB of its rivals, the Smart Tab 2 is let down by its lack of storage, but with 32GB microSD cards costing less than £15 online, it's an easy and cheap fix to give the device more storage than a £350 iPad mini.
At 400g, the Smart Tab is almost 100g heavier than the iPad mini, 60g more than the Google Nexus 7 and just 5g heavier than the Amazon Kindle Fire HD.
Moving from my iPad mini to the Smart Tab was a very noticeable difference, but it's surprising how quickly you get used to the extra weight, and the 122mm width and 11mm thickness make it easy enough to hold in one hand.
I admit that there isn't much scope for design flare on the front of a tablet - it's almost all screen, after all - but the Smart Tab's design seems less inspired than most
Save for the quirky texture of the rear cover and the chrome Vodafone logo, the Smart Tab looks incredibly generic, with no real unique or memorable design features - it looks like those generic tablets used in advertisements, where a black box has been drawn up to deliberately not look like a real product.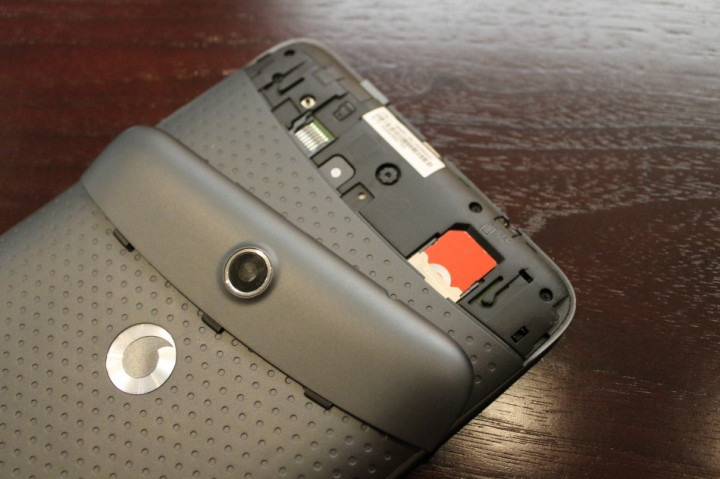 A problem I had with my Smart Tab review unit was that the removeable panel would not sit neatly in place. Instead, one corner stood proud, leading to an unsightly gap.
It appears to be a small manufacturing fault, or maybe damage caused by a previous reviewer, and I'm sure Vodafone would replace the unit right away if a paying customer had the same problem.
Vodafone Smart Tab 2: Display
The Smart Tab 2 has a 7in capacitive TFT display with a resolution of 600 x 1024 and a pixel density of 170 pixels per inch (ppi). Curiously, this is less than the original Smart Tab, which went on sale in February 2012 with a resolution of 800 x 1280 and a density of 216ppi.
Although lower than the Google Nexus 7, Kindle Fire HD, B&N Nook HD and iPad mini, the Smart Tab's resolution isn't too bad, and is the same as the 7in Samsung Galaxy Tab 2.
I can live with the mediocre resolution, but the Smart Tab's screen is let down most by the glare, reflections, and lack of brightness from the backlight.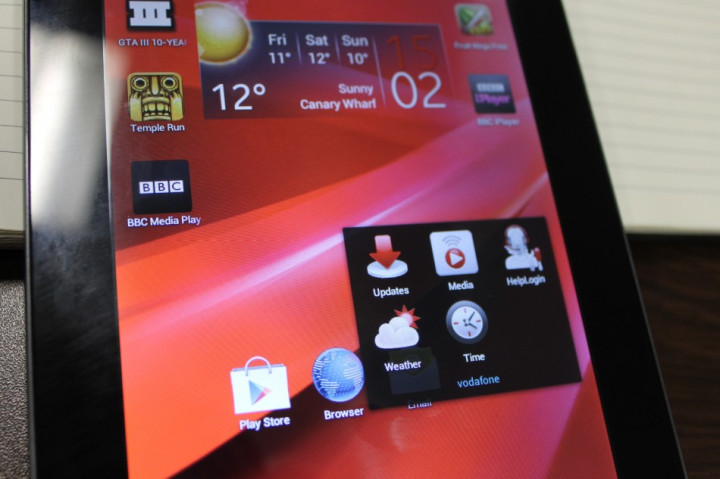 The screen seems to give the entire user interface a curious metallic finish which I personally found uncomfortable to look at for long periods of time - it's as if the screen has a mirrored quality to it that I've not encountered on tablets or smartphones before.
Added to this, the viewing angles are quite poor, with the screen becoming negative and unreadable unless viewed straight on. Another problem is a common one with budget tablets and smartphones, and that is the space between the glass and the actual display beneath it.
A larger gap, as with the Smart Tab 2, increases glare, makes it easier to see the backlight leaking in from the sides, and makes using the device feel more like you're controlling it from a separate control surface, rather than actually pushing the user interface around with your fingertips.
Overall, the Vodafone Smart Tab 2's display is disappointing. I can just about manage with the resolution - although small text does appear jagged - but the poor backlighting, viewing angles and that weird reflection add up to give an uncomfortable and unrewarding experience that is beaten by all of the competition.
Vodafone Smart Tab 2: Operating System and Performance
Moving on from Android 3.0 on the original Smart Tab, the second generation model gets Android 4.0 (Ice Cream Sandwich) with very little customisation from Vodafone, apart from a couple of red wallpapers and a folder with the network's own media, weather and time apps.
With just a 1GHz single-core processor and 1GB of RAM powering the Vodafone Smart Tab 2, I wasn't expecting miracles; as predicted, the device struggled at keeping up a decent frame rate with HD video from YouTube, and while multitasking is possible, the tablet always felt like it was about to trip up at any moment.
This unsteadiness leads to a user interface that doesn't switch between applications as smoothly as other Android tablets do, and games requiring fast inputs like Fruit Ninja often reacted slightly after I'd swiped at the screen.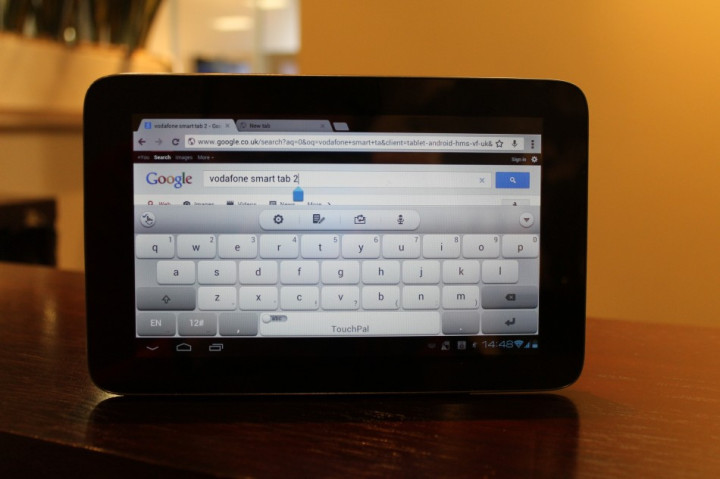 One of the most jarring performance problems was the display changing its orientation when I turned the tablet. The Smart Tab 2 took a full four seconds to flip its screen around each time I spun it through 90 or 180 degrees; most tablets and smartphones can do this instantly, so it's disappointing that it took so long to respond to such a simple task.
To it's credit, the Smart Tab doesn't heat up when used intensively, as other tablets are known to do, and leaving Android almost entirely standard will please those who don't like the heavy customisation of other Android tablets, like the B&N Nook and Amazon Kindle Fire.
A major bonus over those two rivals is that the Smart Tab 2 gets full access to Google Play Store and its comprehensive catalogue of apps, games, music, books, magazines and films.
But, as always with Android, there aren't many applications designed to take advantage of tablet-sized screens, so apps like Twitter tend to look exactly like the smartphone equivalent, but bigger.
Inside, the Vodafone tablet has Wi-Fi 80.11 n and the ability to be used as a Wi-Fi hotspot, Bluetooth version 3.0, an accelerometer, GPS for use with the Maps app, and a 3,550 mAh battery.
I'm a firm believer in not using a tablet to take photographs - even a small one like the Smart Tab - so the fact that Lenovo has only fitted a 3-megapixel rear- and VGA quality front-facing camera isn't a dealbreaker for me.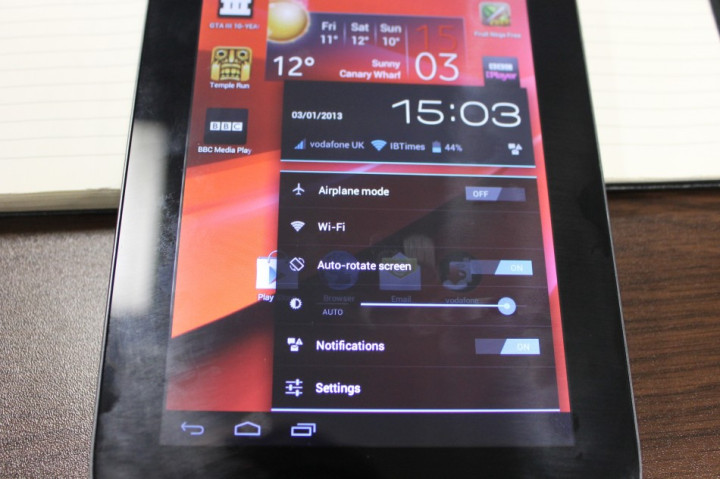 But if taking photos with a tablet is your thing, you'll be disappointed with the Smart Tab 2. Three megapixels is the kind of resolution we saw on the very first digital camera almost 10 years ago, so for such a small sensor to make an appearance on a tablet in 2013, no matter how cheap, is criminal - I'd rather the camera was cut out altogether to save on cost, space and weight.
Nevertheless, digging into the camera app lets you choose from five different color effects, adjust the white balance, turn on geotagging, change the exposure level, and lower the resolution if you're running out of storage.
Finally, the Smart Tab will shoot video (although not HD), and you can take panoramic photos, where the tablet stitches together up to eight images to create a single wide one.
At 3,550mAh, the Smart Tab's battery is between 500 and 900mAh smaller than its 7in rivals, and it shows. I have been getting about two days of battery life from the tablet, with Wi-Fi and 3G on all the time, but fairly light use. At the other end of the scale, my iPad mini can last around twice as long, although of course it doesn't have 3G.
Vodafone Smart Tab 2: 3G Mobile Internet
The Smart Tab is the cheapest tablet on the market with a 3G connection, but for the £20 contract you only get access to 2GB of data each month, so watching iPlayer on your daily commute isn't possible without incurring a huge bill.
General web browsing, email and social networking are all fine though, and on my commute from south west London to Canary Wharf the Smart Tab performed well, staying connected almost throughout and returning useable speeds, just as my iPhone (also on Vodafone) does.
Problem is, 2GB isn't enough for you to use the tablet on 3G all the time, so why not tether to your smartphone's 3G connection with a Wi-Fi tablet instead? Most iOS, Android and Windows Phone devices let you do this and, while the phone's battery takes a kicking, it's an easy way to get a tablet online for short periods.
If you don't want to tether, then try a MiFi device from Three, which gives you 15GB of 3G internet for £18.99 a month, and that can be used by several Wi-Fi devices at once.
Vodafone Smart Tab 2: Verdict
I greeted the Vodafone Smart Tab with an open mind, not one clouded with the belief that a cheap, own-brand device will be terrible - as the terrific Orange San Diego proved last year.
But this wasn't enough. From the moment I turned the Smart Tab on, the screen annoyed me. I can deal with the resolution (an iPad mini isn't much better), but the tiny viewing angles, intrusive backlight and depth between glass and display was all too much to ignore.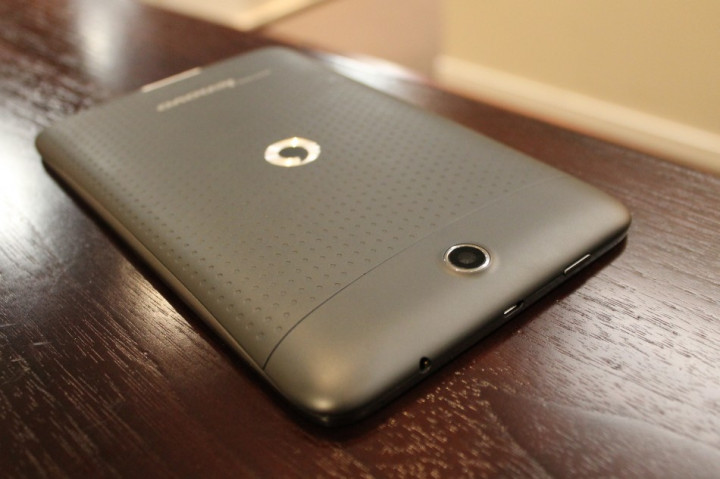 Although I liked the inclusion of Ice Cream Sandwich and full access to the Google Play Store, the 1GHz processor isn't really enough to keep things running smoothly; the tablet felt like it was about to trip up at any moment.
It's almost impossible to recommend the Smart Tab over any other 7in tablet, as the Google Nexus 7 with four times the storage, more power, and a much better screen is just £10 more expensive.
Yes, the Nexus misses out on 3G unless you pay £239, but with free Wi-Fi hotspots everywhere you look (in major towns and cities, at least) and the ability to borrow a 3G connection from your smartphone or a MiFi device, a mobile broadband connection isn't enough to save the Vodafone tablet.
Scores:
The Good:
Android 4.0 (Ice Cream Sandwich)
Full access to Google Play Store
The Bad: